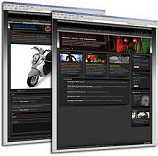 Serious website owners and developers are often
warned against making use of free website hosting services.
Free website hosts often load their members' websites with
advertisements that can ruin the look of the website, s
low down the loading and generally degrade the quality of the website.
To avoid such pitfalls, it is always advisable to avail of the services of
a hosting company that offers the most affordable website
Hosting package that suits your needs best.
Inclusions in a Website Hosting Package
When you look at website hosting packages, they usually fall into two categories.
One is shared website hosting, where a number of websites share a single physical server.
This is the most optimal for most commercial websites.
However, for really big websites that deal with very high traffic and require high levels of security,
dedicated website hosting is far more appropriate.
In dedicated hosting, only one website is housed in the server.
Upon signing up for a website hosting service, you are generally paying for:
Bandwidth limit.
Bandwidth limit refers to the size of the daily or monthly data transfer going on with your website.
Let us say that your allocated bandwidth limit is one gigabyte and you have an mp3 file
that is 3 MB big available for downloading on your website.
If ten people download that mp3 file in a month, it means you have used up 30 MB of your allotted bandwidth.
Here are some recommended Hosting Service Providers:
Web space
Web space refers to the actual disk space reserved on the server for the website.
If the website hosting package allots web space of only 10 MB,
then the total size of the files you can upload for your website cannot exceed 10 MB,
regardless of the number of files that your website consists of.
File size limit
There are some website hosting services that put a cap on the size of the
individual files that can be uploaded for the site.
So, if the host's file size limit is 1 MB, then you will not be able to
upload files larger than that on the server.
There are also add-ons that you may find necessary for your website that
may not be included in a basic website hosting package.
These add-ons may include the use of sub domains and parked domains,
a dedicated IP address for your website, email accounts using your website's
domain, graphical website statistics, and access to server files.
Another useful add-on would be CGI scripts, which you can use
to create visitor counters, guest books and email forms.
When you are browsing through website hosting packages for your website, always
get the most complete for your website.
Be wary of packages that claim to be the cheapest available in the market.
Take a look at their inclusions to see if the package is complete, or if you have to pay
additional fees for add-ons. Typically, that is the case with "cheap" packages.
On the other hand, some website hosting deals that sound expensive may actually be cheaper in
the long run because they have all the features and add-ons that you may want for your website.
Always check out these packages when looking for a good website hosting services.
Thanks the Techstore Team