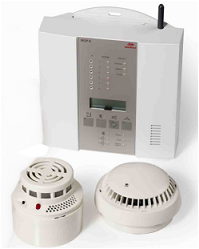 Gas Detection
Systems for your Home or Business.
The Gas detection systems provide a complete
solution for the detection of harmful or toxic
gases in  establishments related to businesses or households.
These systems are extremely important for various
functions such as detection of oxygen deficiency,
harmful or toxic gases, and any kind of combustible
gases in that location.
Gas Detection Systems
With these gas detection systems, it is now possible to maintain
safety of establishments related to businesses or households.
The customization of these systems can be easily achieved
so that they meet the needs of that establishment.
With the use of multiplexed sensors, RFI/EMI digital communication
methods, and non-intrusive calibration there will be an overall sense of
safety in such establishments related to businesses or households.
Major Benefits of Gas Detection Systems
While selecting a Gas detection system, there is a need to go for the best ones depending upon the needs of the location. The provision of better calibration features in these gas detection systems makes them ideal for detection of smallest amount of gas leakages. These systems have sensors for detection of combustible and toxic gases to keep the air clean within the establishment and provide early warning in case of any kind of threat. The use of RFI/EMI digital communication methods and FM approved operational management features makes these systems extremely efficient for detection of unwanted gas leakages.
These gas detection systems can be integrated with the establishment wide monitoring application to enhance the security of that location. Some other benefits of these gas detection systems includes lower operating costs as compared to other type of detection systems, simple installation procedures, and superior data management. Due to all such benefits these gas detection systems can be trusted for reliable performance. These systems are useful for detection of gases such as acetone, arsine, bromine, arsenic pentachloride, benzene, carbon dioxide, HCFCs, Chloro Benzene, and similar kind of gases keeping the environment in perfect order inside the establishment.
Features of Gas Detection Systems
These Gas detection systems are mainly preferred for business establishments such as industrial plants where the expandability and flexibility of these systems can be put to use in a more comprehensive manner. The whole concept of gas risk management in case of industrial units can be achieved using gas detection systems. The gas detection system is flexible and easy to operate for the plant personnel. In addition to critical data retention, these systems also offer alarm logic and event response features as well.
Some of the main features of these gas detection systems include both analog and digital output along with internal self-diagnostics for system check on a daily basis. The breakdown of the system can be avoided or detected easily. These systems offer real time status reporting features along with historic data collection facilities for quick reference checks in case of emergencies. There are various mounting configurations along with relay option for remote gas leakage detection. The non-intrusive calibration features along with analog input option makes these systems an important industrial safety requirement.
See information on Fire Alarm systems  More Here
The Techstore Team