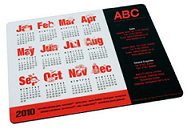 Promotional mouse mats can make an excellent statement about your business.They can be used in your business or given to prospective customers as a gift.Promotional mouse mats come in a variety shapes, sizes and patterns. You can even have mouse mats custom printed to include your company logo and tag line.
The Promotion Specialists offers great prices, fast turnaround and excellent quality mouse mats for your business or organization. With over ten years in the promotional products industry, the promotion specialists can guarantee excellent quality mouse mats.
Customized Mouse Mats
With our promotional mouse mats, you can choose from a variety of options. Chose to print your company logo, a professional photo, or even design a custom mouse mat layout. You can use a variety of text and pictures in the design of your mouse mats.

One popular idea is to offer mouse mat calendars for your customers. They are sure to appreciate the everyday use these mouse mats provide. You can also choose a variety of shapes for your mouse pads. Some of the more popular ones include circular, square, rectangle, and custom shapes.
Design Options with the Promotion Specialists
Not sure what you want to include on your promotional mouse pads? Don't worry we can help. Our fully qualified graphic design department can help you decide on a design for your mouse pads. If you need help creating a logo of layout design for your mouse pads, our team can get it done. Provide us with an idea of what you are looking for and we will offer you several options to choose from.
Mouse Mat Options
There are many things you can do with mouse mats. Just like other promotional products offered today, mouse mats are a great way to advertise your business or organisation. Use them for promotional advertising or pass them out as trade show giveaways. By insuring your customers see your name and contact information each time they are in the office, you will quickly brand and build your business.
Choose the promotion specialists for Wholesale Mouse Mats
We the promotion specialists have been providing promotional products to businesses for over ten years. We have formed business partnerships with companies such as Intel, Coca-Cola, and Champion Sports. Whether your business is large or small, we can help you with any promotional items your company may need.