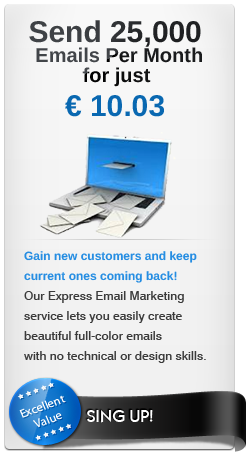 Searching for a way to reach out to your audience effectively?
E-mailing is an easy way to communicate and to
set up a relationship with your customers or members.
If you are thinking of sending bulk emails to your customers
we recommend the use of an opt in email marketing solution.
Our email marketing solutions are a flexible and
affordable web-based email marketing tools designed
to provide any type of company or organisation
with the power of E-mailing. Our solution enables
any user to manage the entire process of
e-mail marketing without any technical skills.
With our solutions you can send various types of e-mails such as:
* Newsletters
* Promotional e-mails
* Announcements
* Invitations
* General information…
No matter what you wish to send, Our email marketing solutions enable you to send professional looking e-mails.
In a few minutes, your e-mail is created and sent. Thus, you gain time and efficiency
in the way you communicate or promote your business online.


Contacting us
If you would like any further information on any of our E-mail Marketing services or to avail of a
free consultation then please complete our online enquiry form here