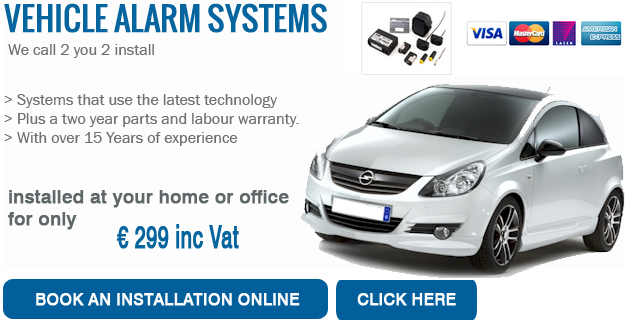 A Car alarm is only as good as the installation and we only supply and fit professional systems.
Our installers are fully trained and have over ten years of experience in this field.
We provide you with a two year Warranty on all systems
Our own experienced installers will come to your home or workplace at a time to suit you and professionally install your Car Alarm System within a couple of hours.
We are also able to de-install and re-install car alarms between different cars please 
email us
with your Enquires.
Features of our Standard Car Alarm System
Radio control with random encryption  code and self-learning function
Status L.E.D.
Alarm memory, recalls cause of last alarm
Flashes indicators
Alarm Arm/Disarm buzzer
Electronic siren Checks for faults on system
Alarm limitations
Panic button
Automatic arming
Antidistraction function
Ultrasonic sensors (Delectable via the remote)
Doors protection
Bonnet and boot protection
One circuit Immobiliser
Voltage drop sensor
Unauthorized starting attempt
Battery back up
Central door-locking (Neg or Pos output) ( If you car has Central locking  already installed if will lock your doors on Arming by remote control)
Optional modules control output (window closure etc.)
Safety locks (locks/unlocks doors on ignition) Comfort system output
Electronic or Mechanical override emergency key
Transmitter low battery warning signal
Wiring harness
System Programming via transmitter
This System is a med alarm system.
Click here to go to the booking form