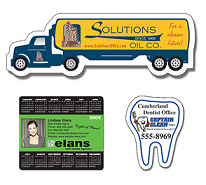 Promotional magnets are a great marketing tool to use at your Promotional Magnets next trade fair or company event. Promotional magnets come in a variety of sizes and styles.
You can send promotional magnets to your existing customers or as a tool to attract new clients. In either case, you need promotional magnets that are customised to best represent your company. The promotion specialists offers a variety of promotional magnets for you to choose from.
Promotional Magnet Options
When you choose promotional magnets from the promotion specialists, you will have a number of options available. Choose from black and white magnets or a full color design. You can include your company logo and tagline, as well as your contact information. Choose from the following styles of promotional magnets to kick off your marketing campaign.
Calendar Magnets
Event Schedule Magnets
Business Card Magnets
Menu Magnets
Refrigerator Magnets
Real Estate Magnets
Special Discount Magnets
Car Door Magnets
Informational Magnets

Promotional Magnet Uses
Promotional magnets can be used in a number of different ways. You can use them to advertise your big event or your business in general. Use magnets to offer a permanent special such as a % off of each sale to anyone who has a magnet.Magnets are also a great way to brand your business.
When your customer sees the magnet on their file cabinet or refrigerator everyday,
they will keep you in mind when they need your products or services.
Promotional Magnets are an Affordable Tool
When choosing the promotional items for your business, you will find that the prices can vary greatly. However,promotional magnets are a very affordable tool to advertise your business. With the promotion specialists, you can buy magnets in bulk at wholesale prices. Whether you are looking to buy 100 or 1,000 promotional magnets, the promotion specialists has everything you need.
The Promotion Specialists VS the Competition
Why should you choose the promotion specialists over the other promotional item sellers on the Internet today? The answer is simple! With over ten years experience offering technological and promotional items at the promotion specialists, we know how to treat our customers. We guarantee that you will receive the best customer service and high quality product workmanship.
We have provided promotional items to companies such as Coca-Cola, Intel, and Tyco.
Whether your company is as large as these or a new company just starting out, we can help you design promotional magnets to boost your customer base.