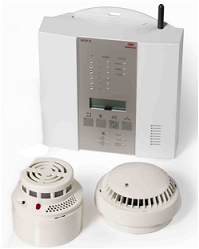 A range of Fire detection systems for your home or business.
Fire detection systems provide the ultimate solution for the early detection of fire in the home or office premises. These systems indicate the exact location of the fire through early detection helping to control the fire and minimize losses.
Here are links to related services:
In case of severe fire, these systems provide an early warning that helps in the evacuation process. These fire detection systems help save property as well as lives through early detection of changes in the local environment where the fire breaks out. The quick detection of smoke and fire helps to send out early warning signals to the control unit. This is extremely useful as the fire can be controlled locally in its initial stages.
These fire detection systems make use of distributed network system that provides facilities such as fire protection and local environmental observation. This is useful to monitor any rapid changes in temperature due to fire breakout. These systems are designed to support numerous detection points in the home or office premises.
Installing Fire Detection Systems
The fire detection systems have simple interface and operational features all of which is integrated into one compact system.
These systems are installed in a pre-configured state with detectors and other loop units connected to the detection loops at various locations within the premises. These systems are fully functional within minutes after installation. Other site-specific configuration can be done based on the requirement of the building in which the fire detection system has been installed.
In case of large buildings, there are distributed fire detection systems that network between all the detection points, with easy routing features to the master control unit. This allows flexibility of installation based on the specific requirements of the site where the system is installed. These fire detection systems are provided with low-profile detectors, high quality sensors, and superior signaling facilities that allow early fire detection capabilities. All these systems follow the process control protocols as set for that area.
Types of fire detection systems
The analogue fire detection systems are made up of an analogue addressable system that provides ultimate fire detection capabilities for medium to large sized locations. These systems have numerous analogue fire detectors or call-points that are well connected across the entire premises. The system also provides sounder outputs, information routing to fire department, and fire door control output. The best feature is the day and night monitoring option that provides complete monitoring features on a daily basis.
Thanks the Techstore Team