Network Security in your Business
Any network, whether a private or commercial,
is vulnerable to numerous threats such as viruses,
mal & spy ware and worst of all hackers,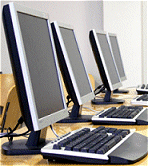 .
But that's not all, even your own colleagues or employees can be regarded as threats when they access areas they shouldn't, either involuntarily or not.
As you can see network security is a really serious matter that needs professional attention otherwise you will be suffering a lot of problems, leakages and data loss, not to mention hardware breakdowns. Read on to find out more about networks and relative security while also discover what Security products and services are available.
Network security is not only about installing a good virus and spy remover, it takes much more than that to properly secure your network and maintain it like that all the way.
Fully certified network security personnel are available to help you protect your precious data and hardware. The services provided can include prevention services and items that can be implemented prior to a new network installation and others that cater specifically for those networks already installed.
The services mentioned are available for any particular software and any type of equipment. Hardware is brought to you from names you know and trust and only high tech technology is applied.
Thanks the Techstore Team