Network installations, ranging from the simplest one joining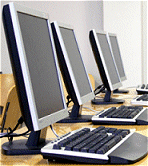 only a couple of computers together to the more sophisticated networks like those in use on industrial scale, require planning and management.
Choosing the right Network Installation provider to oversee this process will be vital.
The professional team delivering your network installation service will make sure you get the best result from your network's performance by laying down the right network structure that best fits your business or organisation.
This includes all the computer systems on the network (also referred to as work stations) and server/s, all the cabling / wiring necessary together with all the other hardware you wish to implement, such as scanners, VOIP, web cams, printers and much more.
Starting off your network installation service are the preliminary processes of surveying the site or sites involved and working out the requirements  From the results of these surveys and analysis, the selection of the appropriate hardware and management software will follow.
Here you can find a quality network installation service with years of
experience and proficiency in the trade to back you up all the way.
These services offered under the network installation sector
include but are not limited to;
Site Survey – Requirements Analysis.
Structuring and Laying Down of any wiring / cabling involved.
Procurement (where requested) of Computer Systems and Workstations.
Procurement (where requested) of appropriate Server System/s.
Procurement (where requested) and setup of relevant Software.
Internet connection and sharing configuration.
File and Data sharing rights allocation and setup.
Any Hardware and Accessories' installation and sharing setup.
And we can also procure, on request, any hardware concerned.

Thanks The Techstore Team