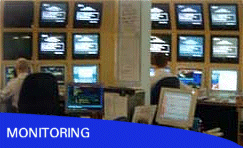 For business security there is Intruder, Fire, and Personal Attack,
Alarm Monitoring Services available.
Alarm Monitoring Service
You can find an Alarm Monitoring Service for your
business and home.
How the Alarm Monitoring Service Works
When an Alarm signal reaches the centre, one
of our highly trained and experienced personnel
will take appropriate action, alerting nominated
key holders and the relevant emergency services.
In the event of an accidental operation, they can
control the resetting operation by telephone and will use
immediate fault diagnosis to reduce engineer call-outs.
Operating 24 hours a day, 365 days a year, the centre monitors alarm systems
for clients throughout Ireland and provides an immediate response.
Remote Monitoring of CCTV and Access Control Services
A totally effective CCTV (Closed Circuit Television) System is one that is
monitored continuously, sending pictures from your premises
to our Alarm Receiving Centre, improving the level and quality
of your security and often eliminating the need for
expensive manned guarding.
A remotely monitored CCTV system comes into its own with the ability
to protect the exterior of your premises.
For example, a remote audio warning from our Alarm Receiving Centre
can deter criminal activity and give the impression that the site is actually manned.
Visual verification by one of our personnel will guarantee a police response if needed.
In most cases we can actually prevent physical damage to a site or property
as well as the crime itself. Potential intruders are detected and verbally warned
that they are being observed. What's more, their activity is being recorded
from the moment they enter the site. Indeed remote CCTV monitoring
has shown itself to be the most economic and effective way of
securing your property and premises.
Thanks the Techstore Team