An Access Control System enables you
to control, monitor and restrict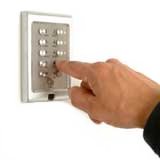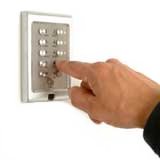 the movement of people, assets or vehicles in,
out and around a building or site.
We provide a wide range of products designed
to meet your individual requirements, from simple
telephone entry systems through to Biometric identification.
How access control systems can help you:
Control who is entering your premises; where and when
Protect employees, visitors, property and sensitive information
Secure certain sectors of a building
Reduce time sheet procedures
Integrate with HR systems for ease of monitoring and data management
Integrate with other security systems for centralised management of the site
Assist with car park management
Help compliance with requirements of the Disability Discrimination Act
Increase security with Photo ID
Control access to a wide variety of other facilities or equipment, such as
vending machines or PCs, using smart card technology.
The key considerations for Access Control are:
Location and number of sites
Number of areas and points to be controlled
Layout of the building
Number and turnover of employees
Number and access required internally for visitors
Disabled access
How the system will be managed internally
Future growth of the organisation
Level of security required
Need to incorporate other requirements such as library cards or cashless vending
To book a free no obligation survey of your premises complete our survey request form.
Thanks the Techstore Team