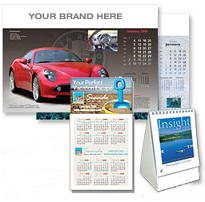 Are you in search of a new and exciting way to advertise your products and services? Do you need a way to stay ahead of your competition?
Promotional calendars can help you advertise and stay in your customer's thoughts rather than one of your competitors. Everyone uses calendars-most on a regular basis- so the are a great option for marketing your company. Promotional calendars are also one of the most economical advertising solutions available. the promotion specialists has a number of promotional calendar styles and options available.
Promotional Calendar Styles and Designs
Promotional calendars can be made in many different ways. You can use the logo for your company as the picture or use real pictures of your company's products and items. Some companies choose to use photos of the company vehicles, while others may want to use specific products that are sold by the company. These elements can be included in any of the following calendar styles:
Wall Calendars
Promotional Planners
Desk Calendars
Magnetic Calendars


These calendars can be created using a wide variety of colors and designs sets. the promotion specialists have a large selection of predesigned templates that can be customised to match your businesses needs. If you have a specific design in mind, our fully equipped graphic design department can Customize promotional calendars for your business.
Promotional Calendar Quality Options
Each calendar offered by the promotion specialists is printing using the highest quality paper and ink available. After all, your calendars represent your company image and your customers will expect them to last throughout the year. The printing techniques used at the promotion specialists are top of the line. Your pictures will be crisp and clear.
Over the last ten years, the promotion specialists has provided technological and promotional items for companies such as Coca-Cola and Intel. After providing these companies with the products to build their business, we are sure we can help your business whether it is big or small. When it is time to brand and build your business, consider the professional promotional calendars offered by the promotion specialists.