Everyone has seen a site that features minimalist website design.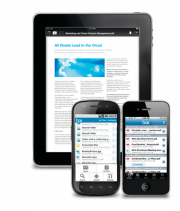 These sites are often very simple and look extremely clean. If they are properly constructed they can be a powerful
marketing and sales tool that can also be extremely cost effective for you to use as well.
Here is a look at minimalist website design and factors that you should consider when determining whether or not it is right for your needs.
What minimalist website design focuses on
There are a few key areas that website development experts focus on in a minimalist website design. Unlike many sites that choose elements for their decorative ability only, a minimalist site demands that each element perform an important function as well.
While it does not mean that a website design will avoid the use of images or graphics, their presence is there for a reason. One key example of a minimalist website development project that uses a lot of images is a site for a photographer. The site may be image heavy, but the pictures or graphics are there for a reason.

See more details about our Website Design Services here
Affordability
If you need a site that is beautiful but affordable, you may want to think about a minimalist website design. Because they are so simple and usually do not take hours of complex programming their overall cost is much more reasonable than a flashy site may be. Keep in mind, however, that if you do want complex functionality built into your site it may have a higher price tag regardless of whether the design itself is clean and minimalist.
Remember that minimalistic website development does not mean that there are not complex functions built in it is just that they look clean, have a purpose and are used in such a way that they are as useful and relevant as possible.
Rapid Loading
One advantage of minimalist website design is the fact that a minimalist site will load quickly even if a person's internet speed is not high. Some sites that are not designed along minimalist lines will not load quickly or easily and this can be a distinct problem for many people.
On the other hand, because a site is minimalist in its concept, there is not a lot to load in many cases and you may find that you do not need to worry about potential customers going elsewhere because their internet speed is not as high as possible. If you have looked at each of these factors and have found that they will work for your company and its needs, you will be able to move ahead and get the minimalistic website design you have been looking for.
It is important to remember that it is not so much what the site can do but how it looks that will determine whether or not a website design project could truly be termed minimalistic.
Just because your site looks simple is no reason to choose the first design company that comes along. Many aspects of minimalistic design can take a large amount of design skill and some website development companies may
not be able to handle your project properly.