If you have a large collection of music on your iPhones, iPods and PSPs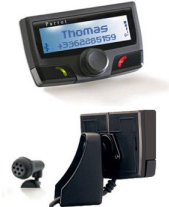 – you don't have to worry anymore about transferring and burning the
music onto CDs just so you can listen to them on your car during long Journeys.
Using an in-car Bluetooth car kit with audio receiver, you can simply
stream the music straight from your gadgets.
Bluetooth carkits with MP3 audio
In the old days, when Bluetooth audio receivers were not in existence, music fans relied on using AM and AM transmitters to stream the music and keep themselves entertained while being on the road. Compared to new in-car Bluetooth carkits with audio receivers, however, AM and FM transmitters have a sub-par audio quality. Now music is played digitally in MP3 formats and these give a high definition and quality of sound.
Since most modern digital music players, gadgets and mobile phones have Bluetooth technology,
compatibility will not be an issue. Bluetooth can stream the audio from your device flawlessly to the speakers of the car.
It can even be shared on your laptop or accessed by other devices in your vehicle.
In modern vehicles you can install in-car PCs which can also connect to
your devices via Bluetooth and transfer the music to their storage system and play them on demand.
Safe handfree driving
Another benefit of using Bluetooth carkits with audio receivers is the fact that you will be able to make hands-free calls while driving. Since your hands will not be confined to holding the phone, you can concentrate more on your driving.
The multi-functional receivers will channel the audio through your speakers,
so that you can easily listen to the conversations.
Technology helps people do things effectively and efficiently. In the case of in-car Bluetooth carkits with
audio receivers, it also helps keep you out of harm's way. Remember, holding your phone with your
hands to talk while driving is dangerous.
There is also the legal requirement of not using a mobile phone while driving.
Bluetooth carkit brands
All major suppliers of in-car handsfree carkits have now integrated Bluetooth technologies for all models.
These include Nokia, Parrot and Bury Bluetooth carkits.
Whether you are a businessman who can't afford to miss important calls while
on the road or a music aficionado who would like to be comforted with the sweet
sound of music from your own collection on long journeys –
getting an in-car Bluetooth carkit with audio receiver is something truly worth considering.
Thanks the Techstore Team