Home security systems have fast becoming a necessity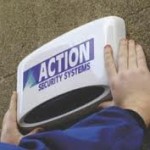 for homes in this modern age. If you decide to invest on this
modern safety measure, you may want to check the following
guide on how to choose the right home security system.
Getting a home security system means you will have the option
of choosing a wired or wireless system. You can choose between
using security cameras and monitoring system – or even both.
You may want infrared sensors, two-way voice communication
and day/night cameras on top of that. How about fire alarm and burglary monitoring?
Different homes require different types of protection, so focus on your needs instead
of getting overwhelmed by the many options. Take into consideration your budget and
your comfort level as well. To help you come to a decision, these are the most common
options to consider when choosing a home security system.
Home Alarm System
The home alarm system will activate a siren sound when a monitored door or window
is opened. The alarm can potentially scare off burglars and alert the homeowners that
there is an intruder in the house.
Home alarm is preferred by many homeowners due to their affordability – compared
to other options. The downside of this system is that if the burglars are aware that no
ne is home and you only have a basic alarm system, the siren sound won't stop them
from cleaning your house empty. Another downside is that if there's someone home,
they may still need to call the authorities. This can be hard to do in a highly tense
situation – especially in the case of children.
Fortunately, some home alarm systems have a feature that will automatically dial a
certain phone number, such as the police, in the case of a break-in. Mind you, if the
alarm turns out to be false, you may get charged a hefty sum of fee.
These systems should be installed by qualified and authorised alarm companies.
Their work has been checked and certified to the required standards.
Home Monitoring System.
A home monitoring system relies on third-party services to monitor your home for
potential burglary, fire, gas leak, and more. When the system picks up some anomaly,
it will send an alert to the monitoring center, which will then contact
the homeowner and/or proper authorities.
The upside of getting a home monitoring system is that you will have a reliable third-party
that monitors your home for its safety. In case something goes wrong, you can worry less
about how you or your children will act in such an adrenaline-pumping situation. The
service can also be customised to suit your needs. You can easily add features like nanny
-cams, email alert, wireless viewing and more. To use the service, however, you will have
to pay a monthly monitoring fee.
DIY Home Security System.
If you like to get things done on your own, you can get and set up wireless out-of-the-
box home security systems. These usually include security cameras, DVRs, motion and
light sensors, and more.
Getting and setting up the system yourself will certainly save some money.
You can customise the system easily to make it as basic or complex as possible.
However, some cheap system may not offer enough protection for
you and your family – as they can be easily disabled in less than a couple of seconds.
This brings the question of whether or not you'd want to sacrifice the
security of your family just to make some saving.
Also there may be regulations that will require the
system to be installed by an authorized installer or technician.
Home Security Cameras – CCTV System.
You can get home security cameras on their own or as part of a CCTV security system,
which may include video monitors, indoor and outdoor cameras and more.
Using home security cameras, you can easily monitor what is going on in
your home from anywhere on your computer or laptop.
These are some general options of home security systems
that you can get — each with its own advantages and disadvantages.
Thanks the Techstore Team