Electric gates offer enhanced security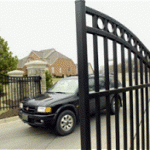 and privacy for your home.
With an Electric gate system you get better
control over who enters your property through
the use of electronic controls, which are fitted
to the gates, these enable automatic or keypad access.
This way, you can keep unauthorized trespassers from
entering your premises and deter others from invading
your privacy.
Convenience
Convenience is another benefit that electric gates have to offer. Digitally connected to a remote control, the gates can be opened or close from afar. This is especially beneficial during bad weather conditions or during one of those days when you are coming home late from work; you won't have to worry about manually opening the gates. Simply drive up to the gate and use your remote control to open it.
Types of Gates
There are many types of electric gates available in the market. For an unprecedented level of security, though at an affordable cost, it is encouraged to go for an integrated electric gates system, such that comes with either a card, keypad, or telephone entry system and a set of intercom, that will allow audio and visual communication. These will be appropriate for residential purposes, as well as for commercial applications.
Affordable
If you don't currently have a gate on your property, you will find that a brand new electric gate system can still be well within your budget. The initial cost might be higher than a traditional gate, but the investment will be worth it in the long run.
After all, there are a couple of things in life that can't be measured with money, the safety and well-being of your family is one of those things. Remember, most crimes occur in places that have low security and high opportunity.
By installing electric gates, it is one of the better crime prevention measures that you can take and one you
should definitely look into.
Thanks the Techstore Team