An Alarm system will certainly improve the security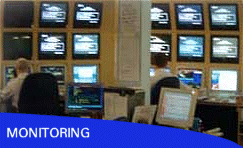 of your home, but these days an alarm sounding can
no longer guarantee a response to your Home.
As in a recent survey it was found that 33% of people ignore Alarm activations, the solution is to link your home system into a monitoring centre with controllers on standby, ready to respond to the signalled emergency.
Why Monitored alarm systems provide peace of mind
If you are using a monitored alarm system, you are aware of the fact that once your alarm is activated, a message is sent to the monitoring service by your system in order for them to respond speedily to the activation. These systems provide you with absolute peace of mind by ensuring that your home alarm is monitored and not ignored 24 hours a day and 365 days a year. A telephone line connects your home alarm system to an alarm monitoring centre.
The Monitoring Centre and its importance to your premises
Once the alarm is triggered; the Alarm Monitoring Centre is alerted. These centre's exclude false alarms and when the alarm is confirmed as being true, they contact you or the assigned key holders, or in certain circumstances, the emergency services. The monitoring option you select for your home alarm system determines who they must approach during cases of emergency.
A Key holder response entails contacting you, your assigned key holders or the fire service (optional) in cases of emergency. The Emergency Services Response entails contacting you, your assigned key holders, An Garda Síochána or the fire service.
Police Guidelines on Intruder Alarm Systems in Ireland
Following the guidelines proposed by the An Garda Síochána Intruder Alarm Policy. The Gardai will refrain from attending alarms which come from non-monitored systems. However, the case is difference if there is also firsthand proof of the occurrence of a crime from a owner or from the public who calls.
The An Garda Síochána will pay attention to an alarm signal routed
through the Alarm Receiving Centre, coming from a monitored
alarm that is authorized for Garda Síochána Response.
Thanks the Techstore Team