Finding a place to meet, notifying everyone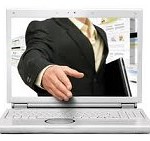 to be there, changing the schedule, figuring out an
agenda, and remembering to show up for the meetings
are daily activities for many busy people.
Whether it's your meeting or another's, the whole thing is one big headache. New and updated
web based programs are here to help.
1. TimeBridge
An automated way to schedule meetings, TimeBridge will set up your meeting in professional
style. Via email, TimeBridge sends a meeting announcement to all participants (customers,
team members, other companies) you listed with potential dates and times, and best of all, it
sorts through the responses and lets you know what works best for the most people. You are
also notified of anyone who did not respond and the system's inability to coordinate a meeting
based on responses. TimeBridge will matches plans with Outlook and Google Calendars.
TimeBridge throws in bonus conference call free with any meeting.
Free. www.timebridge.com
2. Dimdim
A web based service, Dimdim is a forum for online meetings with twenty (20) or less participants for
free. Without downloading software to your computer, you can communicate with team members
via audio or video, viewing presentations via video, whiteboard, web pages, and audio through
conference calls. This is a practical solution for online tutoring, project coordination and problem
solution. Dimdim is designed to work on all computers. Both public and private chat is allowed.
Meetings can be recorded.
www.dimdim.com
3. Congregar
Congregar is another online tool that makes planning a meeting easier. Create a poll listing your
available dates, and then send the poll link to members of the team/committee/department.
After the votes are in, everyone can see the most convenient date(s) for the meeting. Once the
meeting is set, you can send meeting details and assignments. No registration is required.
www.congregar.com
4. Meet-O-Matic
A web based scheduling tool for meetings, Meet-O-Matic will send invitations and tabulate
responses for a meeting. There is no limit on meeting participants or the number of meetings
you can plan. Once you enter a meeting name and a list of potential meeting dates, Meet-O-
Matic redirects you two links – one for the meeting invitations and one to check responses,
which you can monitor. Meeting participants can change their choices. When all the responses
are in, Meet-O-Matic collates the information and gives you the best dates.
www.meetomatic.com
5. YaRooms
Meeting rooms are always at a premium no matter what size company you work in. YaRooms
is a web based room organizer that lets you check availability of rooms and reserve a room
online.
Once a list of people authorized (no limit to the number) to reserve rooms is entered into the
system, they can view and reserve meeting rooms, AV equipment, easels, etc. YaRooms works
across time zones. Free while in beta testing.
www.yarooms.com
6. MeetMe
Tired of playing telephone tag with customers and colleagues to set a meeting? Give MeetMe, a
web based program, a try. Their process is straight forward.
Create an account online
Enter the dates you will be available on the site calendar
Post calendar (MeetMe does this) on shared public URL
Select best date (receivers do this)
Notifies (receivers) you of time selected
www.doodle.com/about/meetMe.html
7. Agreedo
A more sophisticated meeting planning tool, Agreedo was designed not only to take the angst out of
managing and coordinating multiple teams working on different projects but to effectively manage
the time spent in meetings. By organizing the meeting ahead of time with an agenda and assigned
tasks, meeting participants know what to be prepared to discuss and what materials to bring to the
meeting for efficient use of everyone's time. Adding files and tracking tasks can be done online. In
addition, Agreedo allows meeting participants to make comments and respond to meeting reminders.
After the meeting, minutes can be exported to participants into CSV format. Slightly more complex
to navigate, discussion topics are easy to locate.
www.agreedo.com
8. MeetWithAgenda
A simplified scheduling tool for meetings, MeetWithAgenda is easy to use with a lot of upfront mess.
The program sends out notices, requesting date availability from each of the participants, assists to
prepare the meeting agenda which all participants can view in advance, and keeps track of who
accepted and who declined. The agenda can be converted into an outline for the minutes, and after
the meeting the minutes can be retrieved and distributed to all participants. MeetWithAgenda saves
time upfront and improves productivity in the meetings.
www.meetwithagenda.com
9. ORB
Still in beta testing, the web based meeting room, booking tool, ORB has one distinct advantage –
real time booking. This eliminates the problem of two or more people booking a meeting room for
the same time. Users can check meeting room availability online. Free while in beta testing.
www.orbapp.com
10. PermaTime
If you're on a plane more than you are at home and your clients criss-cross the globe, then you know
setting up a conference call or audio or video meeting is a nightmare. PermaTime converts the meeting's
time into each attendee's local time online and automatically. Send the link PermaTime gives you to your
attendees; they open the link in their browser; they see the event in local time. More than one PermaTime
can be created. Users can view past and future postings. No registration is required.
Free. www.permatime.com
11. Plannr
This website meeting planner has added some new features including using smartphones and SMS
for communication. Plannr, much like other online meeting schedulers notifies meeting participants
by email, but after that, things get more sophisticated and service oriented with an app that uses your
meeting email thread (Plannr is under cc) to schedule the meeting for you. Meeting participants simply
click the link Plannr sends them to accept or decline the meeting. They do not need a separate Plannr
account to respond.
Plannr does require you to set up an account on their website. After which you create a meeting with
the name, place, time, and length of the meeting. Meeting participant email addresses are added by you
either manually or by importing them from your Google Contacts. If some participants need directions
to the location, you can attach a Google Map from the Plannr meeting interface, which will be useful for
those with the Plannr iPhone app. Others can use the Plannr SMS service to communicate through their
cell phones. As if this weren't fancy enough, your iCal and Google Calendars can be synchronized with
Plannr to receive automatic updates when meetings are scheduled.
www.useplannr.com
12. Tabzon
If you're the manager or administrative assistant for a transport team in a hospital, a group of real estate
agents, or attorneys in and out of court, you have trouble keeping tabs on who went where. Tabzon is a
simple, easy online program to help. After you create your account and list the names of those you need
to keep up with, their whereabouts is only one click away. Tabzon has standard status tabs – unavailable,
busy, available – but you can add customized tabs. If everybody leaves for a conference, click all unavailable.
You don't have to click through the whole list of employees. For those who like to remain incognito, managers
can print a report with the time elapsed since a person's status was updated. Using a color coded system plus
pictures of each person, makes it easy to see at a glimpse who in and who's out. Custom URLs are available.
www.tabzon.com
13. MeetWithMe
The basic MeetWithMe online program online has the functions you need to set up appointments whether
for one other person or a group. To protect your privacy, only your available dates and times to meet are
shown, not the details on your calendar. To expedite the process, MeetWithMe interfaces with a number
of online calendars – Yahoo, Entourage, Google, Outlook, and iCal. It's as simple as emailing the person
or persons to want to meet with a list of your available dates to schedule a meeting. MeetWithMe through
its timebridge app collates the responses and allows reminders to be sent to those who haven't replied.
Your contacts can propose up to five (5) different times for the meeting.
Once you register your account with the online calendar you will connect with, a page that displays your
available dates and times is accessible. The calendar is updated as people add scheduled meetings to your
calendar. People meeting with you do not have to have MeetWithMe account. Through timebridge you
can set up a group who has ongoing access to your calendar – spouse, friends, partners, boss, colleagues,
and customers. If you want phone and web conferencing apps, you will need to upgrade from the free
apps to a fee-for-service account.
www.app.timebridge.com/lp/meetwithme
14. TodaysMeet
Moving further into the technological future, TodaysMeet has created chat rooms that are disposable, plus
their chart rooms utilize hashtag streams from Twitter to evaluate meetings. Most people have filled out a
conference or workshop survey to aid the organizers to identify the strengths and weaknesses of the event.
TodaysMeet has a new take on this old tradition. Participants at the conference, workshop, or meeting don't
have to open an account to give feedback. You give them the URL for the group chat and comment rooms
you've created before the meeting. They can complete the survey at their convenience (not while rushing
out the door to catch a plane.) Once the meeting participants enter their name and any comments, you will
view them in a concise format with online distractions. While the room is active, it can import Tweets with
a predetermined hashtag, incorporating discussions about the meeting going on Twitter. An expiration date
for the chat room can be set by you.
www.todaysmeet.com