It's estimated by mid 2013 more people will be accessing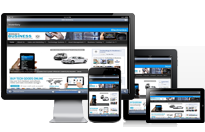 the internet using mobile devices, overtaking those using
the traditional office or home PC.
This is because sales of these new
devices overtook sales of PC's
in 2011 and 12 and continue to outsell
as the typical user becomes more mobile using
Smartphones tablets, even smart TV to
access the internet.
More than 32 million tablets were shipped worldwide in the third quarter of 2012,
a 75 percent increase from the same period a year earlier, also 65% of
mobile workers use a tablet , In the US 25 percent of mobile
web users are mobile-only.
Mobile Friendly Websites
This new trend is placing an increasing demand on business to ensure their
websites are Mobile Friendly, this presents two main choices.
1. Create a separate mobile version of their website for mobile users.
2. Or to upgrade their website to a new responsive website.
What is a mobile version?
This is where a lighter version of the website is created specifically
for the Mobile user, this website is hosted on a separate or sub
domain and served to users who access the website via a
mobile device as a separate Website,  this has to
be updated and managed separately.
What is a Responsive website?
A responsive website is a website that employs layouts that are fluid and change
automatically to suite the screen size of the device the website is being viewed on
during each session, In other words, as the user switches from say their desktop
over to their Smartphone while on the road the website should automatically reform
to suite the smaller screen and different layout of the Smartphone.
Google's recommendations on this topic:
"Our recommendation for Smartphone-optimized sites is to use responsive web design, which means
you have one site to serve all devices"
New specialist upgrade service
Our associates over at Next generation websites offer a number of choices and
provide a complete service that can help you upgrade your
website to the next generation of responsive website.
See their website upgrade Packs here: