Many people may see website design templates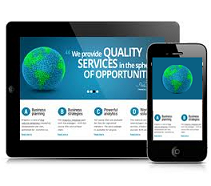 and think that they are best for their company
and its needs.
This is not always the case. While website design
that is based on a template can be quite helpful
(especially if you are designing your own site) there
are times that using one may not be appropriate.
Here are some examples of when you should and
should not use a template for your site design.

When to use a Template
There are many times that using a template can be quite helpful.
If you are trying to design your own site you may find that a good website
template can allow you to create that site quickly and efficiently.
If you have no design experience it will mean that your site will
often have a much more polished appearance than it would if you were
trying to do the programming, coding and design yourself.
A template can be fantastic as well if you are looking for a very simple website.
If, for example, you are an artist or a photographer and want a website design
that will allow you to showcase your work and provide contact information
to potential customers using a website template can be a perfect solution to your needs.
When not to use a Template
There are times that using a website template is not appropriate.
If, for example, you want a truly unique appearance for your website
you may find that a template will not give you what you are looking for.
They tend to be very standardized and if you are in a very creative industry
you may find it hard to locate a template that will give you the creative look that you want.
If you are incorporating a large number of specialized features you also
need to make sure that you do not use a template.
Some companies may need specific functionality that can help
them interact with their customers. File upload sites and advanced
ecommerce solutions may be more difficult to use if you are trying
to design your website around a standard template.
Only you and your website design company
can determine whether a
template is right for your needs. There are an increasing number of
templates that are including advanced functions that can give you
the website that you need.
Just remember not to simply spring for a template-driven site in
the interests of saving money since, in the long run, that simply may not happen.
Our Website development Services
We offer an extensive range of website development services
which includes website design, website redesign
and website upgrades, Click here