Monitored Alarms Systems are very popular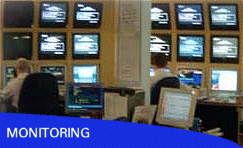 these days in both domestic and business
applications, here are details of the main reasons why:

Police Response for Monitored Alarms
The Police may no longer respond to a bell-only alarm,
unless there is additional evidence of a crime being committed.
They will however respond to a monitored alarm
which qualifies for Police response.
Immediate Response for Monitored Personal Attack Button
A 'Personal Attack' signal from a monitored alarm will be immediately policed.
With a bell-only alarm you are relying on a neighbour coming to your aid.

Duress Signal
With a monitored alarm you can send a secret code signal to the Alarm Receiving
Centre if you are forced to turn off the alarm.
With a bell-only alarm the bell would be stopped and no one would be alerted to help you.
Fire Safety
Most battery operated smoke detectors are not properly maintained and a conventional stand
-alone smoke detector may not activate fast enough to ensure the occupants are woken up in time.
A unique Carbon Monoxide Fire Detector detects lethal smoldering fires
much quicker than conventional smoke detectors.
When linked in to your monitored alarm system, we can call the Fire Brigade if you are incapacitated.
The Fire monitoring part of the alarm system stays 'set' even if the main intruder alarm is not 'set'.
Fire Protection
If you are not in the house and fire breaks out, you are relying on a neighbour/passer by to call the Fire Brigade.
With Monitoring the monitored Fire Detector can rapidly detect the fire, and our Alarm
Receiving Centre will quickly call the Fire Brigade.
Emergency Help
If you require emergency medical assistance you can press an 'Assistance' button on your panel
and we will call you to find out what is wrong. We can then phone a key holder to assist you, or in
some areas we may be able to contact the Ambulance Service directly, (although we cannot guarantee
that the Ambulance Service will accept the call).
Online Fault Rectification
With a bell-only alarm if a fault develops an Engineer will most likely need to attend the site.
The homeowner will then have to wait for an Engineer to arrive.
With a monitored alarm using the latest RESOLVE technology, we can send an
"electronic tool box" down the monitoring line, to carry out fault diagnostics and rectifications.
More than 65% of faults can be resolved without the need for an Engineer to attend, so
saving the homeowner the time of waiting for the Engineer.
False Alarm Management
With a monitored alarm you have an internal siren to deter the burglar, but you do not necessarily need
a loud external siren because you are not relying on neighbour s/passers by to come to your aid (they
very rarely will – most neighbour's get fed up with ringing burglar alarms).
If you are away for a period of time (e.g. on holiday) and there is a problem with your alarm
which requires entry to the house to rectify we can alert a key holder.
With a bell-only system a fault may persist for the whole time you are away, and no one may
be available to attend to the problem.
Toxic Gas Monitoring
We can add Carbon Monoxide detectors (as distinct from Carbon Monoxide Fire Detectors)
to systems, to detect faulty boilers etc.