You may know what you need from your website design.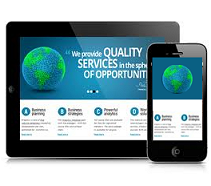 You know that you want it to look good and contain
content and links that will allow you to rank highly
on search engine results.
However, there are a few things that you need to avoid
when it comes to website design. This can help to ensure
that your site functions well and that viewers will be able
to see it and get the information they need as
quickly and easily as possible.
Complicated Animation
Animation may look good to some people but you need to be
careful about how it is used in your website.
At best it may simply look unprofessional or childish.
At worst, it may cause your site to fail to load properly or to
take so long to load that people using slow internet connections
may just click elsewhere. This can cause you to lose out on
potential business which is something which you want to avoid.
Bad Images
A website is only as good as the images that are used.
Illustrations should be well done and look like they are in keeping with your site and company image.
If you are using photographs they need to be clear and highlight what you are trying to sell or demonstrate.
This is especially important if you are selling items directly from your website.
Bad images will make people go elsewhere as they will be unable to tell what you are selling.
Illegible Text
Everyone loves fancy lettering but there can be a problem if you decide to use it.
Some styles of lettering are so fancy and complicated that they can be difficult to read.
If you have a lot of text on your page it can be hard on the eyes.
The color of the text is also important. You want to make sure that there is a
good contrast between the color of the text and the color of the background.
Pay attention to whether or not your images make it difficult to read the
text as this can be an issue on some sites.
Confusing Layout
Some sites are nightmares when it comes to finding the products and information you are looking for.
We have all experienced websites that make it impossible to use quickly.
If people cannot find the things they are looking for it may drive them away and cost you valuable business.
Taking the time to learn what not to include in your website design is just as
important as knowing what to look for. It can help you avoid costly mistakes
that may even cause your site to fail if they are serious enough.
Our Website development Services
We offer an extensive range of website development services which includes website design,
website redesign and website upgrades, Click here