Home security systems have changed a lot over the years.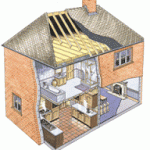 In the past, these systems were expensive toinstall, were
not flexible and were often difficult to alter or expand. All
of the issues stemmed from the same underlying reason: the
security system needed to be hard wired into a home or business.
Not only did it make it more expensive to install them, it also gave
them a critical vulnerability. If the wires could be cut (either by
accident or purposefully) it was possible to gain entry to a home
without setting that alarm off.
There have been a number of improvements and advances in home security technology and fixing the issues surrounding wiring are only one of them. Here is a look at how some of the advances in home security technology have increased the effectiveness of these systems while reducing the cost of having them installed.
Wireless technology
New systems do not use wires in order to function. This can be a huge benefit as it is no longer possible to cut them in order to bypass a system. Even if the power to a home is cut completely, in many cases a security system will still be able to function due to a back-up power system. It is also possible for home security systems to still communicate with a monitoring company via a phone line and a silent alert may go out if the power is killed completely.
Types of monitoring systems
In the past, a home security system was often limited to sensing whether a door or window was opened. While modern systems still include sensors that can detect this, there has been an increase in the variety of sensors and monitors that can be incorporated into a security system. Motion detectors and body heat detectors can also be used to protect a home against intruders.
There are other monitors that can be built into a home security system as well. For example, carbon monoxide or fire monitoring can also be included in a system. There are also detectors that can sound an alert if a sump system has failed to work and flooding may become an issue.
Medical alert systems can also be added as well. If a senior is living at home, this can be incredibly valuable. If a fall or other medical emergency occurs, it may be possible for an elderly person to lie there without being discovered for some time. By installing a security system that has a medical component it can be easier for them to put out an alert that medical assistance is needed.
How a security system can benefit your home
There are many benefits that these systems can give you. A financial benefit is that they can lower insurance costs. Many insurance companies will offer a discount if a security system has been installed in a building. The added security and peace of mind that comes with knowing that your home is protected from theft or other emergencies can also be very valuable to many people as well.
For more information of home security systems, please click here