As the world continues to go digital,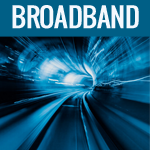 numerous benefits are being noted in
various aspects of life with the internet
driving the majority of this growth.
Considering broadband subscriptions in Ireland were recently revealed to have
increased during the first quarter of 2013, this growth could be just the tip
of the iceberg when it comes to advances in technology – but how?
The figures
The figures which were published by Ireland's Commission for Communications
Regulation (ComReg) as part of their recent report showed that electronic communication
was on the up as Irish subscriptions for broadband services increased by 0.1% in Q1 of 2013.
Whilst only a small percentage increase, the penetration rate for household broadband
stood at an impressive 65% by March 2013 with 24.6% referring to fixed broadband.
In terms of connection speeds, Ireland was recently ranked 15th in the world, ahead
of major players such as the UK and Germany. ComReg's own findings claim that more than
one fifth of broadband subscriptions (21.9%) achieve speeds of at least 10Mbps.
Back in 2012, this was only true for a smaller 19.1% of subscribers.
What it means
For Irish consumers, this means that broadband services should improve throughout
the country with plans to expand superfast networks already underway. This will establish a
faster, stronger and more secure internet connection throughout the country with a large
proportion of the focus being placed on rural areas which are often left behind when
it comes to broadband expansions.
As a large amount of modern technology is now internet-enabled, the increase in broadband subscriptions
also means consumers will be getting more out of their personal devices. Whether it is access to more films
and catch up programmes via an internet-connected TV or keeping track of emails and news updates
via apps on a smartphone, the fact remains that expanding the number of homes and businesses
with broadband access will equate to increased benefits for consumers.
When it comes to looking at broadband providers themselves,
consumers may also find that the statistics prompt greater competition and rivalry.
With more subscriptions being placed, broadband providers will be looking for ways
to entice customers to their services and that could mean lower prices combined
with more comprehensive packages.
Firms such as Sky cater to growing demands by combining their broadband services with other products – such as entertainment/media packages and phone tariffs for the home. These bundles make up what is known as triple play services and represent an important part of the industry which is continue to grow at an unprecedented rate.
This means you can expect increased TV and phone packages to be experienced alongside
a higher amount of broadband subscriptions as Irish consumers vote with their wallets
to attain the best deals and the most comprehensive entertainment packages available.