You love your car, and you love your iPhone.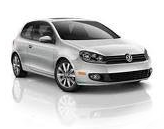 The Guarda who just pulled you over doesn't
love the fact that you were talking
on your phone while driving.
As soon as you pay the fine, your next expense
should be an iPhone car kit.
These devices use a wireless technology called Bluetooth
to carry your calls from an earpiece or speaker to your iPhone.
If your iPhone rings while you're behind the wheel, all you
need to do is tap the earpiece or button to answer.
You can talk and listen through the earpiece, mic and speakers – and keep
both hands on the wheel.
Here's a look at the top features to consider when shopping for an iPhone car kit:
Call Clarity:
Though iPhones are wildly popular, but, depending on your carrier, the call quality
can be lacking. You need to keep this in mind when shopping for a car kit because
you don't want to make it any worse. Some of the cheaper car kits exacerbate the
iPhone's call quality by adding static to the call. This makes it very difficult for you
to hear calls, and very difficult for anyone to hear you. Sometimes, static can be
reduced by bringing the iPhone closer to your earpiece. If that doesn't solve the
problem, return the kit to the store and consider buying a slightly more expensive
model. Static is rarely a problem with the more expensive earpieces.
Dash Mount:
Some iPhone car kits come with mounts on which you can dock your iPhone much
as you would a portable sat nav receiver. This enables you to see the numbers of
incoming calls and easily tap the screen to answer the call. It also can replace your
standalone sat nav device if you've purchased a sat nav app for your iPhone from
the iTunes Store.
Display:
Consider a car kit with a display if you like to keep your phone in your pocket while
driving. These screens will flash the numbers of incoming calls, and some even offer
additional remote control of your iPhone. For example, if you're using your car kit
to stream music from your phone to your car radio, you can adjust the volume and
jump to another song using the screen.
Volume:IPhone car kits vary in speaker quality.

Less expensive models often have small speakers
that can be difficult to hear while driving even when the volume is turned all the way up.
More expensive kits, on the other hand, offer higher-quality speakers that can overpower
trucks, screeching brakes and other road noise.

Power: Car kits require their own source of power to power the Bluetooth radio that transmits your
call to and from your iPhone. When shopping for a kit, pay special attention to the
manufacturer's estimate of battery life. Also check what type of battery is required
and how much it costs to replace.
Some kits also will recharge your iPhone when it's connected via your car's cigarette lighter.
This can be important if you talk a lot on the phone while driving. The iPhone's Bluetooth chip
will drain the device's battery more quickly when it's turned on, and you do not want to miss
calls because your iPhone is dead.
There are unlimited accessories for your iPhone, whether it's a 3G, 3GS, 4 – or even the upcoming
iPhone 5. If you drive a lot, a car kit is a must-have. A car kit makes talking on the go easy – and
much safer.
Car kits range in price from €149 to about €349. As mentioned above, the quality (wireless signal,
call clarity and speakers) increase along with the price. If you can, test out a device in the store
before buying. If that's not possible, or you're buying online, make sure your retailer has a generous
return policy in case you are not satisfied with the quality of your purchase.
If you would like further information about   car kits system click here