There is no denying how the internet has revolutionized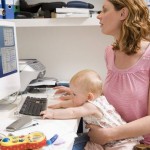 the way people conduct their lives and their businesses.
Who would have thought that it even paved the way for
people to work from within the comforts of home?
For those who have been a part of this trend, only the best
words are said. However, for those who are still contemplating
of getting into this kind of work, having the right tools will help
you get started. Here are three of these very important tools:
1. Computers and software
Since you will be working online, you need to have a very reliable computer.
Not just one will do but keep an extra unit in case something goes wrong.
A laptop is also a must.
Working from home does not mean that you will be literally staying inside your computer room.
Whenever you are on a holiday or need to go out during the weekends, you have your laptop handy.
It will let you stay connected wit your clients and potential customers 24/7.
You may also opt for a sophisticated Smart phone that allows you internet access and business applications.
Depending on the kind of work that you will be engaging in, you need to keep your
computer updated with the latest software.
This practically holds true among web developers and systems administrators.
Be in the lookout for more sophisticated software that will make things easier for you.

2. Reliable internet connection
Working from home requires a very reliable internet connection.
You need to be online most of the time because you can never tell if when you are going to be contacted.
Remember that sometimes clients can be very demanding even
to the extent of asking you for updates once in a while.
Of course, you will also be asked to do some downloading and it helps if you have a faster
speed because everything becomes a lot faster too.
As such, get a subscription from a monthly provider who can offer you faster features.
The rates may be more expensive but given the nature of your business, you will
definitely require one that is more durable.
A fast internet connection will also alow you use VOIP or a virtual pbx phone system.
This can be setup to allow you connect or communicate with fellow workers
or give a professional image to potential clients.
3. Work Station
Identify a place within your home to be your work station.
It should be free from any disturbance because the noise will get in the way of your concentration.
Get the best chairs that will make you feel comfortable and promote good posture.
If you have these 3 fundamentals in place you can achieve your goal of successfully working from home.
Our Services in this area:
We provide a range of Cloud based services and online backup
solutions   See here