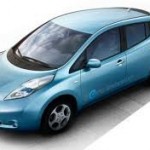 No longer will you need to resort to playing I-spy
games on long car journeys, as there is now
a more productive way to keep yourself busy.
Hail the latest gadget offering by 3 UK, as recently unveiled in Gadget
Show Live in Birmingham, which allows you to stay connected
to the Internet while on the road as a passenger in a car.
Having previously introduced the MiFi – a personal Wi-Fi hotspot,
which allows users to connect to the Internet using mobile broadband connection,
mobile broadband provider 3 UK launched an in-car version of the well-received
personal hotspot device. The new in-car kit can turn your car into a
broadband Wi-Fi hotspot – so that you can easily connect your mobile phones,
net books, laptops, iPods, iPads and gaming devices to the web.
"Our research suggests that over 25 percent of the population is interested in having
the Internet in their cars, with families and travelling work colleagues showing the
most interested," explained David Kerrigan, the head of Internet services of 3 UK.
For £59.99, you will get the in-car version of the MiFi modem, mains and car charger.
A free 1GB data usage also comes with the package. Given the choice of playing I-spy
while being on the road or checking the latest football match score on your in-car Internet
– it should not be a difficult one to make.