Most companies that run a large vehicle fleet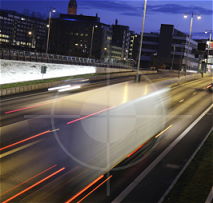 have come to rely on using GPS vehicle tracking systems,
as they are considered to be commodity tools that are
effective in improving their bottom line.
Those that haven't are more than likely in the process
of evaluating ways to do so as more and more purchased
vehicles are being equipped with the tracking systems.
How exactly does the system work?
The tracking device is placed inside the vehicle, which enables the system
to send data back and forth to the central server – allowing your company
to track the fleet conveniently from the office.
Because the signal is sent at regular intervals, the system can provide
real-time tracking information. It is also possible to adjust the intervals as per your liking.
The former may cost more, since the data to be transmitted will be larger.
Though in most cases, the vehicle tracking supplier will ensure that the data
contract included is already sufficient to meet the client's needs.
The following are the benefits that companies can gain from using the vehicle tracking system.
Improve efficiency

Knowing where the employees are provide business owners with more information
regarding the business operations, while at the same time providing bigger level of control.
The use of phone to constantly check their whereabouts can practically
be eliminated, thus saving the company from high phone bills.
Using the integrated automatic mileage reminder of the system, company
can carry out maintenance servicing only when it is truly required. In addition,
the system also ensures that no important serving intervals will be
missed – helping the vehicle to stay in top condition.
Increase Productivity
The vehicle tracking systems will make employees aware that they are being
actively monitored, thus they will less likely make unauthorized stops.
Faster delivery means more business opportunities to get done.
The system also reduces the paperwork that employees must fill out.
In addition, the reports will be more accurate and reliable.
Lower Bills
Most insurance companies charge less for companies that have vehicle
tracking systems in place, as the systems are believed to promote safer driving,
as well as a greater protection against theft.
The systems also help reduce running costs, such as for fuel.
Improve Customer Service
Win the hearts of the company's customers by notifying them in advance
if your employee isn't likely to be on time for a visit – rather than
have them waiting with no certainty. They will appreciate the
gesture and gain positive perception of your company.