With the Parrot MK6000 hands free car kit you are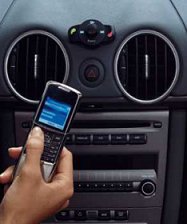 not only meeting your legal road use requirements but
you have the ability to travel and listen to your favorite
music as you do so.
This Parrot MK6000 car kit can be professionally
installed by a qualified auto technician and the
Bluetooth hands-free system with its  2.4-inch
high-resolution TFT colour screen can discreetly
mounted on your dashboard.
The music can be played through the internal
speaker system in your vehicle.
The Parrot MK6000 Bluetooth car kit is compatible
with all major mobile phone using Bluetooth
technology and is the world's first car kit with full music integration.
The car kit plays MP3 music via Bluetooth and integrates the
music to play through the car speakers. The car kit is fully compatible with the Apple Ipod.
With its Bluetooth technology the Parrot MK6000 can pair with up to 5 devices.
When the device is playing music it will auto mute when a call is
received you can answer and when finished the music will return.
The Parrot MK6000 car kit also has a voice dialing feature where the device
can read through your phonebook and you can prompt the number you wish to dial.