In todays fast moving business world it's imperative for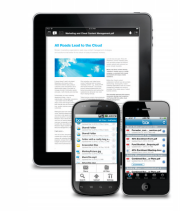 business to leverage all available information to create new opportunities for the organisation, this is a process
called Business intelligence (BI) These tend to provide historical, current and predictive views of business operations. Including reporting, analytics, data mining, process mining, business performance etc.
The employment of Business intelligence systems can support better decision making processes with an organisation. We have identified a range of business application that will assist you in the development of your Business Intelligence.
Here is a list of the Business Intelligence applications:
Yurbi
Yurbi connects your organization's 2 biggest assets; your data with the people who need to access it to make decisions. Yurbi is an agile business intelligence solution so that you can quickly and afford ably see BI success. We're so confident you'll love it, your first Yurbi App is free….forever.
LogicBox CRM
CRM is easy. There are dozens of choices. Getting your CRM to incorporate your unique upstream and downstream processes is the challenge. LogicBox CRM is "cloud"-delivered, making it affordable and removing all of the headaches of running and managing your own hardware and software. It is accessible anytime, from anywhere via any device with a Web browser (PC, Mac, iPad, iPhone, etc).
Totango
Optimize end-user experience of your application with advanced reporting and analysis tools. Define steps in your application and track performance with dashboards, drill-downs and cohort reports. Monitor adoption of application modules and identify what's being used by which type of customer
GoalTrak
GoalTrak is the only web-based, collaborative, strategic goals and performance management system based on a time proven, 9 step goal setting process that creates a meaningful, multilevel system of goals, driven by and aligned with the Vision,Missionand Strategy of the organization.
Tree.io
Tree.io is an all-inclusive cloud-based business management system. Project management in Tree.io was designed to be simple, fast and powerful. In this guide we'll look at some of the features that make Tree.io Projects faster and more flexible than other solutions out there on the market.
If you have any further suggestions regarding applications we might have missed that fall under this category then by all means add your suggestions to our post as comments, we will then review your suggestion.
Thanks