Today's next generation of websites are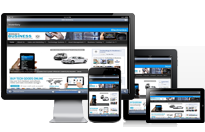 dynamic so their content is fresh and up to date, this is to feed the ever growing appetite of today's consumer who wants the latest information.  So as a business you need to ensure you have a dynamic online presence.
Checklist for a Website Upgrade
Not sure if you have a dynamic presence? then we have compiled a list of important indicators to check if you need website upgrade to the next generation of dynamic websites.

1.   Is your website a static website?
Traditional static websites are hard coded and need to the intervention of a developer each time website content needs to be updated, if you find you have to pay someone else to update your website then you need to consider upgrading to a next generation dynamic website. These new websites come with a content management Interface that is accessible online, allowing you and your staff update your websites content. This will keep your website content
fresh, also your staff motivated and your customers engaged.
2. Are your social media channels up to date with your websites content?
Today's consumer is web savvy and also very active on social media, in a recent survey it was established that 78% of consumers trusted peer recommendations from a friend on social media rather than ad copy direct from the manufacturer. So having a website that can update your social media channels with the latest product information is essential as its saves value time and also ensures a consistent message across all channels.
3. Can your customers share your offers with their Peers?
Todays consumer not only wants the latest information , they also want to collaborate with you and then also share their experience, so ask yourself; can visitors to your website share your offers via their preferred social media channel? In other words are there links to all the top social media channels available on your website so that
your customers can share your offers with their friends?
4. Is your website responsive?
A responsive website can display correctly on a wide range of screen sizes, check how yours displays on Smartphones, tablets and other new devices. This tool allows you to check what your customers will see when they visit your website if they are using an iPhone (the most popular Smartphone).
Test your website here: http://www.testiphone.com
5. That your website is scalable
Finally the internet is fast evolving so you need to ensure your website is scalable so that it can grow as your business grows. A dynamic website that is built on top of one of the leading platforms like wordpress will benefit as the platform is constantly evolving with new updates and features, this will ensure your presence is always up to date and future proff, so upgrade to a next generation website to ensure your successful online future.
Upgrade your website today:
Our associates over at NextGen websites can offer next Generation responsive websites at really competitive rates, they also allow you spread the upgrade cost over a period of 12 months, so no major upfront costs to incur.
Also the upgrade process is painless so no need for any downtime, they just transfer your existing content across to the new platform.