f you are paying good money for professional website design,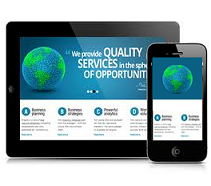 you want to make sure that you get the kind of design you want.
If, however, you are like many people who do not know a
lot about the actual web design process you may worry
that you will be unable to tell your web designer what you want.
Here are a few things you need to consider and suggestions
on how to ask for what you want.
Think About what you want Your Website to Do
You should think about what you want your website to do.
A web designer is going to find it a lot easier to create a site you want if you
have a general idea of its functionality. Some websites are set up for ecommerce
(doing business over the internet). Other websites are set up for showcasing a
portfolio of the company's work. Still others may be a mixture of the
two or may be more informative in nature.
Think About any Special Features You Want
You should think about any special features you want.
This can include areas that use animation to attract extra attention.
Do you want a special area that is password protected?
This can be a great feature if you are offering a loyalty program
or other similar set up. Finally, consider whether you want to give
your customers the ability to upload large files to your site or server quickly.
What Kind of Look do you want?
You may also want to think about what kind of look you want for your site.
You don't need to be specific in order to get your ideas across.
Do you want your site to look more formal and traditional or fun and artistic?
Do you have any specific colors that you want to include in the
website's design? What kind of graphics do you want to use?
You can also help a web designer out if you can show them links
to sites that you like the look of.
Designing a website is an ongoing process that can take some time to complete.
If you know what you are looking for and what your needs are you will be
able to ensure that your web designer has a starting point that they can work from.
If you know what you want (and what you do not want) you will often be
able to streamline the design process as much as possible and this,
in turn, can save you time and money.
Our Website development Services
We offer an extensive range of website development
services which includes website design,
website redesign and website upgrades, Click here