When you are going through the website design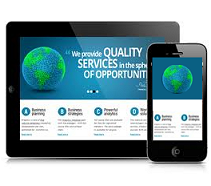 process it can be a difficult period for you.
This is especially true if you do not know much
about how to design a website. There are a few elements
that good website designs have in common.
By learning what they are you will be able to
ensure your own site has them as well and you will
be able to ensure that the site you get is
functional and wonderful to look at.
Some of these elements have to do with basic design
principles and others relate mainly to the look of a website.
Remember that a good website will work well and look good
so that people want to return and look at it time and time again.
Design Elements
Some of the good website design elements apply to many
different things and are not just limited to websites.
Good print advertising or illustrations will also have these elements as well.
You want to make sure that the colors in the site work well together.
There is nothing worse than seeing colors that clash or which
do not work well with one another.
There should also be a focal point which reaches out
and grabs the attention of the viewer.
You want to make sure that the font (the style of the letters)
looks the way that you want and that certain areas of the site
stand out so that people feel they know where they should be looking.
You want to make sure that if there is a lot of text that it is
shown in a color that is easy on the eyes as lettering that
is hard to read will often drive your audience away.
Functionality Elements
Functionality refers to how well the website works.
Good website design means that all of the elements work together well.
You need to use website design that can be used no matter what the
speed of the internet connection is and that loads properly.
Good search engine optimization is also important.
The words that are used as well as the links and other elements
need to make your site turn up high on a list of search results.
If you need ecommerce solutions or a content management system you
want to ensure that the systems that are used are easy to understand as well.
By dealing with a professional website design company you have a better
chance of getting the website you have been searching for.
Our Website development Services
We offer an extensive range of website development services which includes website design,
website redesign and website upgrades, Click here for more information >>