If you are interested in promoting your business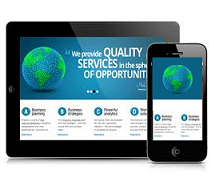 a website design company can help you do so.
Businesses that have employed website design services to
create a custom site find that their sales improve as they
are able to attract attention from a much wider
customer base than they may have thought was possible.
You may be considering using one of the template services that
promise you a beautiful website design at a lower cost than a
professional website design firm would charge.
You need to ask yourself whether this is the right move for your company.
Here is a look at how custom website design services can
help your company and why they are worth the cost of having them created.
A unique look
A custom website design will give you a much more unique look
than a mass produced site where you simply plug your own information in.
Custom website design allows you to choose your own color scheme,
decide where you want your text and images to be placed and add
to or expand your site much more easily than a
cookie-cutter website will allow you to do.
There is nothing worse than finding that you have chosen a popular
template and that there are numerous sites that look like yours.
If you want your site to stand out you need to go the custom design route.
Your choice of functionality
If all you are doing with your site is presenting a portfolio of your work
it may be possible to use a template service. The issue is that businesses are
demanding more from their site functionality than simply being used as a digital portfolio.
If you are dealing with a bargain basement website company you may find that
your options are limited and that it can be difficult to add all of
the functions you need your site to perform.
Some examples of custom functionality can include ecommerce functionality
(digital storefronts and electronic shopping carts), blogs that are incorporated
into your site and members only areas that may or may not be password protected.
Bargain basement website companies may claim that you can incorporate
these same functions into the websites that they can create for you but you
may find that the cost for your site will increase.
If you are spending the extra money anyway it can be well worth
it for you to go with a custom website design firm that can give
you the advanced functionality that you want and to ensure that
it works seamlessly with the rest of your website.
What do you do if you need to link billing software to your website?
If you are trying to use a discount website company that uses cookie
cutter templates you may find that this is simply not possible.
As you can see there are many different reasons why a custom website
design may be just what you need to promote your company properly
and ensure that your site adds to the amount of business that you are doing.
Our Website development Services
We offer an extensive range of website development services which includes website design,
website redesign and website upgrades, Click here