If you are going to be paying for website design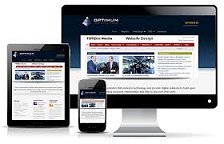 services you want to make sure that they include
a content management system. The right content
management system can elevate simple website design
from something that is promotional but not
overly useful into an incredibly powerful
tool for business promotion.
A content management system, at its most basic, is a program
that is built into a website design. It cannot be seen by end
users however its effects can be seen and felt both by potential
customers and by the people who will be using and maintaining
the website as well. It is possible to change various elements
of your website content such as text and HTML areas so that
you can update your own website on a regular basis.
Benefits of a CMS
A content management system is excellent because it means that
you will not alter the look of your site every time you add new
elements or content to it. Regardless of whether it is a video,
a piece of text or a link, placing new items on your site will
not change the look of existing pages.
It is also unnecessary for someone to know how to write script or do any
programming in order to use a CMS. Again, this can be quite helpful since
very few business owners have a vast knowledge of writing code in order to
create their own website. Rather than trying to create portions of a website
that may not function properly, it is easy to simply create new portions of the website.
Another benefit is that it can save time to use a CMS.
Again, because you are able to perform website maintenance tasks
using the CMS it is no longer necessary to leave your web updates
in the hands of busy web design companies. Because you are not paying
someone to constantly maintain and update your website you will also
find that your ongoing costs are going to be minimal.
You may still need to retain the services of a website design
company in order to perform site upgrades but it will not be
as expensive as if they were responsible for regular website maintenance.
What to look for in a CMS
If you are considering whether or not to include a CMS in your website design
you should be aware of the fact that most sites now have them built in to their programming.
There are some website design companies that have their own proprietary
technology and other companies will use a commercially available CMS solution.
If you are presented with the option of which kind you would prefer to use
there are a few things that you should look for.
he first is that it is easy to use. The fewer steps you need to
remember the more chance you will have of not making mistakes.
There is nothing worse than trying to update your site at night
or on a weekend when a website design company is unavailable.
This is generally when errors are made and an entire site may
end up being out of commission for a period of several hours or days.
This can lead to an unacceptable loss of revenue.
Taking the time to learn as much as possible about your CMS options
can help you choose the program that is the best fit for you and your website.
Our Website Development Services
We offer an extensive range of website development
services with which includes website design,
website redesign and website upgrades,
see details of our service See here