If you are a  web developer and are fortunate enough to have access to an ipad then we have assembled a range of great apps to help you with your website Design tasks.
Here is the list: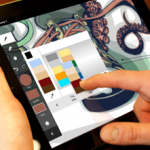 Need to create a quick diagram, process chart, page layout, website wireframe, or graphic design? With OmniGraffle, your iPad touch screen is your canvas (or graph paper, or whiteboard, or cocktail napkin…).OmniGraffle knows what makes a diagram different from a drawing, so it knows how to help you make superior documents quickly: it keeps lines connected to shapes even when they're moved, it provides stencils full of objects for you to drag and drop, and it can magically organize diagrams so your ideas come to life.
An FTP client for the iPad, iPhone, and iPod touch. View and edit HTML/CSS/JS/PHP/ASP, or other files on your server with its built in editor to change your website from anywhere. View images and documents (JPG, PDF, DOC, XLS, PPT, etc) too.
Dropbox is a free service that lets you bring all your photos, docs, and videos anywhere. After you install Dropbox on your computer, any file you save to your Dropbox will automatically save to all your computers, your iPhone and iPad and even the Dropbox website! With the Dropbox app, you can take everything that matters to you on the go.
Adobe® Ideas is your digital sketchbook, letting you capture and explore ideas anywhere you go. An ideal companion for the Adobe design applications that you love, including Adobe Illustrator® and Adobe Photoshop®, Adobe Ideas lets you easily sketch using vectors, re-use specific colors using the Eyedropper tool, and save and use multiple color themes. Enjoy 10 drawing layers plus a photo layer for each sketch at no extra charge. Adjust layer opacity and move, rotate and scale each layer independently.I
Adobe Photoshop Express software lets you use simple gestures to quickly edit and share photos from your mobile device. Photoshop Express is a companion to Photoshop.com, your online photo sharing, editing, and hosting resource. With Photoshop Express, it's easy to improve your photos. Choose from a variety of one-touch effects, or simply drag your finger across the screen to crop, rotate, or adjust color. Add artistic filters like Soft Focus or Sketch. And never fear:
.net is the world's best-selling magazine for web Designers and developers. Every issue boasts pages of tutorials covering topics such as CSS, PHP, Flash, JavaScript, HTML5 and web graphics written by many of the world's most respected web designers and creative design agencies. Interviews, features and pro tips also offer advice on SEO, social media marketing, web hosting, the cloud, mobile development and apps, making it the essential guide for practical web design.
We hope you find these resources of use..
The TIB team.