Promotional Clothing ?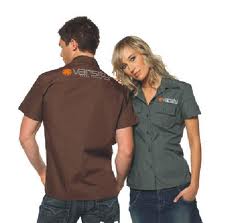 How your staff and others can assist
you in promoting your brand
Marketing with promotional clothing has long
been a popular idea because people love getting free
clothing and every time they wear these items they are inadvertently
promoting your brand or business during their daily activities.
Focusing the power of people
Merchandising in this way focuses on the power of people in their ability to promote your company.
You will have people who work for your organisation; you'll have customers or clients.
Providing these people with free promotional clothing will get these people working for you
by raising the profile of your brand. When you think of it in these terms,
it's amazing that any business wouldn't wish to design promotional clothing items as part of their marketing strategy.
Promotional clothing can be a long-term strategy
How promotional clothing items can promote your brand over a long period of time
Promotional clothing has more longevity than other items such as promotional food, as an example,
given it will last far longer and may be used on multiple occasions.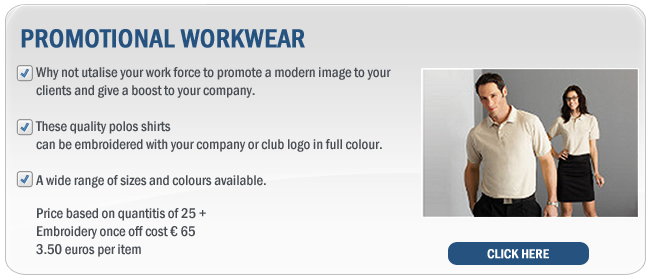 If you design your t shirt well and use quality fabric then your items might last for longer than one wear.
Obviously, the longer your item will last the more number of people will see itand your marketing
strategy will go on for a longer period of time.
With promotional clothing you have a number of items to choose from,
The type of clothing you select and give to your employees or to your customers
is your choice and you have many choices to select from.
Customising your items for your particular Market
You could customize your items or employ a similar design for an entire clothing range.
Obviously your decision will depend on your budget but the more you are prepared to spend on the items,
the more popular they are likely to be. You could go for t shirts of different sizes, or polo shirts for the more mature.
You could choose baseball caps for the younger generation as well as sports clothing.
You could change up the items you give away according to the season so that you giveaway
hoodies and jumpers during the colder months and t shirts or shorts during the warmer season.
You can start to see just how much variety and flexibility you have if you decide to use
promotional clothing items to market your business.

Our team specialise in sourcing and branding these goods
Our team specialise in sourcing and branding similar items for whatever your Business
promotion needs, contact us today for a free consultation.