Top Free Discussion Forum Software Solutions
Discussion Forums are a great way of engaging with customers and generating interest in your Products or services , they are also a great way of building up an interest group or online community centred around your business.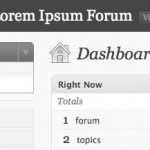 There are various well developed Discussion Forum Software  applications out there, here is a list of ones we found useful.
Like being a little car, miniBB is full of details which are impossible to list on one page, and like when driving a car, you should know in advance what each of its function means. Study miniBB Manual for more information on how to set it up, configure and use. You will how such small piece of code could contain almost everything of what every forum needs!
Unlike many forum softwares, FluxBB is designed to be smaller and lighter without many of the less essential features. Often features which aren't included in the core are implemented by the community and released as modifications.
Vanilla is the best forum software. Based on ease-of-use and design simplicity, Vanilla provides an unparalleled experience for guests, members, moderators, and administrators.
The 'Open Source Question and Answer' system a way to connect people to the information they're looking for software that's distributed for free under the terms of the GNU General Public Licence (GPL) written in Python and powered by the Django application framework brought to you by the folks at DZone*, the home of one of the web's biggest software
bbPress is forum software with a twist from the creators of WordPress. Create a simple and engaging community to compliment your WordPress powered website or blog.
Helps admins and moderators manage the new forum posts all in one place – allowing for instant deletion or approval as well as offering a Quick Reply feature. This plugin also optionally adds Akismet support to help detect and deal with spam
Discussion Forum Software Features:- Online setup and configuration, Content filters for html code (convert the html code into displayable text) profanity (filter a customizable list of profanities to filter them out),url coverter (convert the urls to actual links) and more Search facilities to search for keywords in the forums
Phorum was the original PHP and MySQL based Open Source forum software. Phorum's developers pride themselves on creating message board software that is designed to meet different needs of different web sites while not sacrificing performance or features.
Simple Machines offers a powerful feature set in a free, no charge, no strings open source box. Although heavier in some places than the other software mentioned here, it has everything you need to successfully integrate a forum with your own website, regardless of your current setup.  Simple machine is the next incarnation of that successful open source project.
We hope you find these resources of use..
The TIB team..