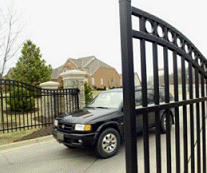 Electric Gates enhance your home security
Electric Gates are now more affordable today
than ever before and they afford your property
with a number of added advantages including
enhancing your home security as well as the
obvious convenience factor of having gates that
open and close automatically.
Advice in installing Electric Gates
If electric gates are something you are interested in
then we have assembled some advice on what you
should look out for if you are considering
installing one of these systems.
1. First of all pick a design that suits you and your tastes
Electronic gates do not have to emulate traditional wrought iron style latch gates, with the only
difference including remote functioning and electronic controls. You could opt for this style if your
main interest is in security and convenience and you do not want to deviate too much away from
the traditional style gates you once had.
If you are interested in a change with a contemporary high end design then many customers are
now thinking about solid timber hardwood gates. Not only are they opaque to give you privacy
but they also enhance the security you would otherwise have with gates that provide a view to your property.
2. Choose the materials and design you want before you look for quotes
There is a lot to think about when choosing a style. They may be expensive but well worthwhile.
If you aren't sure where to start then perhaps the best advice is to think of the design you would
like and the material you want and start contacting companies that offer the product.
Ensure that the product was designed with all the relevant safety features that you
should expect such as sensors that detect when a vehicle is passing through the gates.
This is standard but you should always double check what you are getting.
3. Check out the reputation of the candidate installation company
Ensure that the company you are working with is reputable. You might want to check them out online,
see what their previous customers have had to say about the level of service they received and the
quality and safety of the gates that have been fitted. The actual fitting of the gates is important too.
You will want to ensure that the people who carry out the job know what they are doing so feel
free to check them out.
Electric gates are very convenient and easy to use.  They also provide enhanced security.
Also you or your loved ones won't have to get out of your vehicle especially on a rainy
day to open or close your gates.
Our Electric Gates supply and installation service
If you are considering installing Electric Gates around your home or business then our
colleagues at  APlus offer you a number of options and nationwide installation.
If you would like a free consultation then please complete
our free enquiry form See here