In the current business world,small business computer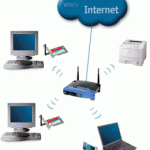 networking has become a common practice.
Technology has evolved  so much that practically any business
can't survive without it – big or small.
Though it may look like a complicated affair to go through, setting up a small
business network is not that difficult to do.
However, you do need a specialist like Tech store to make sure
that the system can run for your maximum benefit.
If you are still on the fence about getting a small business computer network,
you need only look at the many benefits and you will never look back.
Increased efficiency
When you set up a Home PC and network for your home business, you can optimally use your computers and other electronic devices. Let's face it, competition is heating up. The only thing separating you from others is how you can manage the business to run more effectively and efficiently.
Setting up a Home PC and network means sharing resources — be it data, physical devices like the printers or the Internet connection. This is one of the most effective ways to boost productivity levels in your business.
One of the very first choices that you will have to make is deciding on the Operating System of the network.  Though it may well end up being a personal preference, some OS may work better for a certain niche. Your choices are Windows XP/Vista/7 and Mac OS. The latter may be more suitable if you run a multimedia business.
Likewise, if you are in a multimedia-intensive business like video editing and photography, you will need a high-end system with great graphic cards to ensure the business can run smoothly. However, such is not the case if you are mainly using the system for administrative and clerical tasks, like word-processing, doing spreadsheets and researching on the Internet. PCs are better when it comes to the wide variety of the available office suits software, while Macs are better for heavy multimedia use.
Apart from the speed of CPU, you will need to invest in a host of peripherals and accessories — for example, the monitor, modem or router. Since you will spend a good amount of time working on your PC, it is recommended to go for a bigger size LCD monitor. As for sharing the Internet connection, you can choose between a wired or wireless router. In many cases, fixed or wired internet connection is more stable and faster. If you opt for a wireless one, make sure you a good security is put in place. Don't let people illegally access your network or server by using encryption software and putting a strong password on every connection.
Time for you to make a choice, you have the option to embrace technology and succeed or avoid it and get left behind by your competitors.
Thanks the Techstore Team