The future of shopping holds exciting developments in using technology
to revolutionize marketing, boost security, meet consumer
demands for transparency, and more.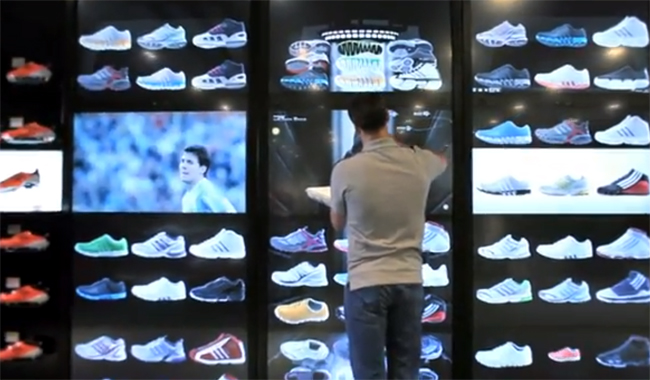 Image source: retailtechnologylab
And the great news for small retailers is you don't have to be a giant retailer
to implement these technologies. In fact, small businesses are increasingly
at the frontlines of technological innovation. Because they are not introducing
technologies across hundreds or thousands of stores, they are
able to implement apps and sophisticated software faster than large retailers.
Whether you run a boutique pet store or a women's clothing franchise,
you can use technology to improve your retail operation.
From personalization to augmented reality, here are some of the trends to
be aware of in this brave new world of technology enhanced brick and mortar stores.
Personalization, Personalization, Personalization
Just as location is the catchword for real estate, personalization has become the catchword for marketing.
Savvy retailers plumb the data they have on their shoppers to make data-driven decisions and determine the unique wants of a specific customer. The data from loyalty programs can be mined to see what products a customer purchases, in order to extend them special offers for products they will be interested in, or to promote related products.
Receiving payments with Apple Pay, Google Wallet, Square or other mobile point-of-sale services is one thing, but strategic retailers know how to go even further with mobile by extending personalized offers via text message.
Retailers can tailor texts to particular customers, sending reminders about upcoming birthdays and including photos with suggestions of what they could buy as a gift. Retailers can alert customers when new merchandise arrives, and let them know when products of interest to them are on sale.
Similarly, location-based services (LBS) like Foursquare and Shopkick let you reach out to potential customers who are physically near your store, while magnets and Bluetooth-connected beacons can help you provide real-time messages and offers to those already in your store.
By directly meeting an individual customer's needs, this hyper-personalized marketing is more effective than traditional, and impersonal, marketing methods.
Biometrics for Security and Payment
Biometrics is the measurement of physical characteristics, such as fingerprints and facial features, to verify identities. One example is Apple's passcode fingerprint scan on its iPhones, which was enthusiastically received by iPhone owners. Brands and banks, wanting to improve security and bolster their marketing efforts, are keenly interested in biometrics. One technology consulting firm has forecast that more than 470 million people worldwide will be using a smartphone equipped with biometric technology by next year.
Facial recognition software has obvious benefits for retailers. It can be integrated into your video surveillance software, making it easy to stop shoplifters. The software is simple: it scans the faces of those entering your store, comparing them to known shoplifters in the database. If a known shoplifter enters your store, the system sends an alert to your manager's mobile phone, allowing them to keep an eye on the individual or even ask them to leave.
Biometrics may also change how customers pay. MasterCard and Visa are both working to use facial recognition and other biometrics to allow customers to complete ecommerce transactions. We may not be far from verifying payment with a fingerprint.
Testing Products through Augmented Reality
Some developments in augmented reality (AR) are so advanced it can seem they were taken straight from a sci-fi movie.
AR gives a digitally enhanced view of the world, and has countless applications in retail. Cosmetics company Shiseido has an augmented reality mirror that takes an image of a shopper's face to show them what cosmetics products will look like on them. Similarly, brands including Ugg Australia and Neiman Marcus are using mirror technologies to allow customers to try on virtual outfits with different colors and styles.
The examples are endless. For De Beers' Forevermark collection, an AR download let shoppers "try" on jewelry through their webcam to see how pieces would look in different lights. Numerous furniture retailers have released apps to allow customers see what certain products would look like in their homes. Other retailers have introduced virtual fitting rooms.
In each case, customers are able to test products to see if they meet their needs, before making a purchase.
Consumer Demands for Transparency
Because they are used to having a wealth of information in the palm of their hands, consumers expect more from their retailers. Increasingly, they want accurate, up-to-date product information, including information on the manufacturing process, and details about ingredients, allergens and organic certification.
QR codes on price tags or retailer apps can provide rich information about products, meeting this consumer need for transparency, and building brand trust.
Embrace Technology in your Brick and Mortar Store
With all these trends, it's a fascinating time to be in the retail business. Technology simultaneously shapes and meets customer needs, bringing new software, apps and high-tech tools into stores across America.
From biometrics to augmented reality, the future of shopping is here. For your retail business' success, it's time to embrace what technology has to offer to meet your customer needs.
Contributed By:  John Fecteau, CEO of Worldlink Integration Group. Mr. Fecteau, a co-founder and executive with Worldlink Integration, became the CEO in 2008 after 7 years as the company's COO.