Cloud computing has changed the way thousands of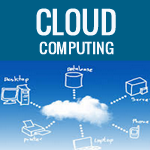 businesses of all sizes operate and manage their IT functions.
There are an array of benefits to be gained by deploying
cloud solutions, not the least of which include efficiency
gains and manageability.
Simplifying IT Systems
Cloud computing solutions like those from Dell can be utilized by businesses
in a variety of different ways. For many companies, the main aim is
simplification of IT architectures and the greater efficiency that often results.
For many smaller companies, cloud computing is best accessed on the basis
of subscription services, rather than through potentially expensive hardware investments.
Routine use of cloud services in the context of business operations takes
away a good deal of the complexity involved in IT management, meaning
employees and entire workforces can focus more on making progress than
dealing with computer problems. Efficiency gains also mean a company's
resources, both in terms of man hours and finance can be redeployed
in ways that really make a difference.
Optimising Infrastructures
Cloud computing solutions can now be introduced into existing IT architectures
to streamline the associated processes and save businesses money while increasing
data-use capacities. Every business has unique demands and circumstances into
which cloud computing must be introduced with consideration and careful planning.
However, the scope of cloud computing as a means of streamlining and optimising
IT architectures is such that it is generally a question of how and not if the
technologies might be beneficial for businesses of all sizes.
Gaining a Real Advantage
Some companies have more intense data demands than others and certain enterprises
stand to benefit more readily than most from the increased computing power.
But what so many businesses share is a need for flexibility and by providing
just that cloud computing has proven invaluable in a variety of ways and huge range of industries.
Cloud computing has also repeatedly demonstrated a powerful capacity to support
business growth and development, giving companies a fresh advantage in
even the most competitive markets.
Centralized Management
A key reason why cloud computing and the virtualization of desktop functions that it
enables has such potential for businesses is that it results in greater centralization of
IT management. In short, cloud computing lets businesses manage, expand,
utilize and protect their networks and data systems and services more
directly and seamlessly than ever before.
Dell provides a full spectrum of cloud computing solutions and services.
You can find out more by visiting our website at dell.com.