Usually, when a company is undergoing website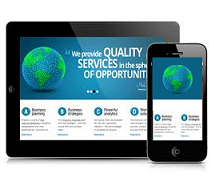 development and design they think mainly
about how a site looks.
This is important but it is equally important
to consider the things that cannot be seen.
The bones of a website will ensure that it works properly,
can be found using search engines, and that it can be
maintained and updated as quickly and easily as possible.
Here are three main things you need to make sure
are included in your website for it to be
as functional and effective as possible.
A Content Management System
This is critical to any website's success. A content management
system allows you to change, remove or add text, html and images to your site.
It puts the power to maintain and manage your site back into your hands
and allows you to make changes on your own schedule rather than relying
on your website design and development company to do so.
A content management system needs to be
one that is easy to use. If you can find one that does not take any special
steps to use and is as close to point and click as possible you will be better off.
You don't want to be taking a massive amount of time learning
how to use a CMS if it is at all possible.
Analytics tools
These tools can give you valuable insight into how your site is functioning.
They can be particularly valuable for an e-commerce site but any site
can benefit from the reports that are generated. It is possible to
learn how many hits you are getting daily, how many of those are first
time hits and how many are returning, and other pieces of valuable information.
They can help show you which areas are getting the most attention and
interest and which areas may need to be changed or updated in order
to make it more appealing to visitors.
Search engine optimization
It is important to make sure that is built into your website.
This means using a variety of different items in order to make your
site more appealing to search engines. You will need to use keywords and phrases,
links and tags on your site in order to get the best ranking possible on a search engine.
A website development expert can explain the process to you and give you
input on how they plan to incorporate search engine optimization into your website.
Our Website development Services
We offer an extensive range of website development services
which includes website design, website redesign
and website upgrades, Click here