Here's the list of three best and must have Business Apps if you're planning a Business Trip.
GateGuru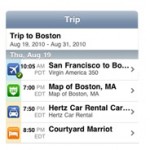 Named one of the Top 5 Air Travel apps by CNN! Now with real-time flight status and push notifications! From the real-time flight status information, to the push notifications for important flight information, to the structured airport amenity database – there is no other app that delivers what GateGuru does for travelers. GateGuru has been revolutionizing the airport and day-of travel experience since 2009. The application allows you to receive real-time flight status information (including push notifications), view your TripIt and KAYAK itineraries, view / post airport security wait times, see a structured list of airport food, shops and services – including over 30,000 reviews and tips and 5,000 photos from fellow travelers on airports, terminals, and airport amenities and much more!
TurboScan turns your iPhone into a multipage scanner for documents, receipts, notes, whiteboards, etc. With TurboScan, you can quickly scan your documents and store, search, print, or email them as multipage PDFs or JPEG files. Works great with the NEW iPad's high resolution camera!
TurboScan uses advanced fast algorithms to auto-detect document edges, straighten the documents (correct perspective), eliminate shadows and set a perfect contrast. TurboScan boasts a powerful yet easy to use interface. Get instant one-tap brightness, rotation and color controls all on one screen! TurboScan also offers SureScan, our proprietary scanning mode for sharper scans (especially useful in low-light conditions.) SureScan requires taking three pictures of the same document with the iPhone camera.  TurboScan's handy "Email to myself" feature lets you send documents to a predefined address, or even upload them to online storage sites like Evernote, with a single tap.  All processing happens on your iPhone, and the confidentiality of your data is never compromised (no Internet connection needed.)
TripIt for Business is an online service to help organize travel for your office. Admins and office managers (travel admins) can make itineraries for the travelers in their office. Travelers can see their itineraries anywhere, anytime, online or on the smartphone of their choice. Admins can also make custom groups to allow co-workers in a group to view each other's plans on a calendar or map.TripIt organizes travel plans into an itinerary that has all of your trip details in one place. Simply forward confirmation emails to plans@tripit.com and TripIt will automatically build an itinerary for your trip that you can access anytime, either online or from a mobile device