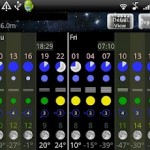 If you're interested in astronomy, like some of us here at TIB then we have assembled a list of great Android apps to help you with your interesting hobby.
Mobile Observatory is the most complete astronomy app on the Android market and the perfect tool for anybody interestered in the sky's wonders, from the occassional sky gazer to the passionate astronomy-amateur. The app provides you with loads of detailed extra information on stars, planets, deep sky objects, meteor showers, comets, asteroids, lunar and solar eclipses as well as detailed ephemeris of all included sky objects and an interactive top-down view of the Solar System. All that in just one app!
The world wide best selling smart phone astronomy app Star Chart. The best selling smart phone astronomy app comes to Android! Now you can have a virtual star chart in your pocket! Look through the eyes of your Android device* to see a virtual window into the whole visible universe. All you have to do is point your Android device* at the sky and Star Chart will tell you exactly what you are looking at.
Highly detailed astronomy weather forecast. Never miss a clear sky again! Astronomy weather forecast. Forecast data is from 7Timer and includes: This lightweight astronomy app detects your location and uses it to instantly give you a forecast that is highly localized and works worldwide. It's first designed as a weather forecast tool for astronomical purpose, as the author himself is a long-term astronomer and is always annoyed by fluky weather conditions.
SkEye is an advanced Planetarium that can also be used as a PUSHTO guide for telescopes. Ever been on a camping trip and wondered what objects are up in the sky? Now you can get familiar with Astronomy by identifying stars, constellations and deep sky objects from the Messier and NGC catalogs. If you have a telescope, just strap the phone onto the OTA and you get a PUSHTO guide!
Would you like to know when the next meteor shower is? This app will display a list of upcoming meteor showers and the approximate date in which they will peak with specific details on each.A reminder system to automatically notify you when the next shower is coming up!! Share this app with a friend
We hope you find these resources of use..
The TIB team.