GSM is a new tracking technology
A GSM Tracking Device is a low cost, portable self-powered asset tracking unit.
Unlike traditional GPS transceivers, GSM-based trackers are inexpensive and
much smaller in size since they don't require high-powered radio antennas
to communicate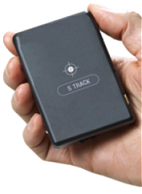 with GPS satellites.
GSM Tracking Devices ensure that your assets will be recoverable using a
combination of newer technology fused with the principal of GSM Triangulation.
Superior to GPS tracking in a number of ways
GSM Tracking is superior to GPS tracking in a number of ways.  For example, with
GSM Tracking an asset can be found regardless of where it is placed, indoors or out.
They can be hidden on moveable assets such as containers, vehicles and trailers.
Unlike traditional GPS systems that  require a an outside power source a GSM
Tracking Device is self-powered, with a battery life  from 1 to 10 years depending
on the model that you choose. Gone are the days when a tracking unit was forced
to rely on the battery and electrical system of the asset that they were attached to.
Easily setup and deployed
Attaching the small GSM unit to your asset is pretty straightforward, ideally the unit
can be concealed  somewhere on or within the asset, whereby it's accessible yet not
visible. Once activated and attached the GSM Unit is now 'active' and can be tracked
using our asset tracking system.
Once operational the GSM Device reports in its location to the server every 24 hours.
The owner of the asset can view this location via our web based control panel which
is accessible via a standard web browser.
When an asset is reported missing the user need only log into the system to establish
its location. Once the asset is identified in a specific area a tracking vehicle is then
dispatched to the area and our team uses a 'reader' to find the exact location of the
asset, even if it happens to be inside a home, storage locker or any other location.
Once pinpointed the owner simply gives the OK and the local police are notified
and the asset recovered.
As with all technology there is an initial Investment cost.  If you weigh that cost against
the value of your assets we think you will see that investing in a GSM Tracking device is
a good idea that will dramatically increase the security of your Business assets.

The Investment cost, per GSM Device, is as follows;
The GSM Tracking Unit is €185 + VAT (€227.55).
There is an Annual Monitoring Fee of €70 + VAT (€86.10). This covers all costs,
including the internal SIM card, the web service and roaming costs.
There is a recovery fee of €149 + VAT (€183.27) for recovering your asset in the
republic of Ireland. If an asset has to be recovered in another country there will
be possible extra charges for the necessary travel arrangements and so forth.
All fees for the GSM Tracking Unit must be paid in advance
If you would like further information about Tracking system click here