An effective home alarm and monitoring service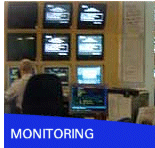 can afford your home with a high level security even
in your absence; Alarm monitoring is becoming an increasing
feature in Ireland with more and more homes connecting to
these services and enjoying a higher level of security.
Here are some of the ways that monitored alarm systems can help protect your home.

Provide an effective deterrent.
Today's Home Alarm systems aren't  just about making noise.
They are about providing protection via a number of means including deterrence, by
deterring potential criminals from even thinking about illegally entering your property
they provide an effective deterrent. Sometimes just the appearance of an exterior
Alarm box can be enough to ward off any potential intruder. So the deterrence factor
is certainly high when employing using these systems.
The added advantages of having a remote monitored system
There are lots of advantages to having a monitored alarm system fitted that you may not have considered.
It isn't simply about a loud siren sounding off when a break-in occurs, technology has advanced
so that your system can be connected to an external monitoring service to monitor your home
remotely 24/7 and respond to any activation's by alerting designated key holders
or the Gardai.
In a recent survey it was discovered that 33% of people ignore Alarm activation's so linking
your system to a monitoring centre with controllers on standby, ready to respond to the
signaled emergency is an added advantage.
How a monitored alarm system works:
Here are details of how a monitored alarm system works.
1: The home alarm system is activated:
Within seconds an activation message flashes on a screen in the monitoring station.
This includes:
Details of the home and the nature of the activation plus the contact details of the customer.
2: To eliminate any potential false alarms the monitoring station controller calls the home
requesting a prearranged code provided to the owner, if an incorrect pass code is given
or no reply is received the controller then treats the activation as an emergency.
3: The monitoring station controller then immediately acts by notifying the Gardai or any pre
designated key holders and or the relevant other emergency services depending on the nature
of the activation
4: All details regarding the incident and subsequent actions are recorded in the monitoring station
for reference if required.
Our Alarm Monitoring Service
Our colleagues at Aplus alarms provide an alarm monitoring service for clients throughout Ireland.
This includes an immediate response 24 hours a day, 365 days a year, see more information here