If you have never been through the website design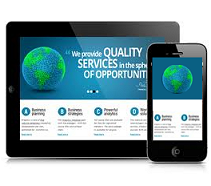 process you may be feeling nervous about
what you may have to look forward to.
Although every design company works differently,
the website design process is often quite
similar from company to company.
Before you meet with your website design company,
you may want to do a bit of research and
thinking about what you want to include on your site.
Do you want ecommerce solutions that will make buying and selling products easier?
Do you want a content management system that allows
you to update your site quickly and easily?
Are there specific websites that you like the look of? The more information you
can give to your website design company the better your chances of getting
your site completed quickly and satisfactorily.
The First Meeting
At the first meeting or consultation, a website design company will likely try
to get a feel for what you are looking for in your site. This is a good time to
let them know what you have found in your research and it is a good time
for you to show them links to sites that you like.
They may also ask you questions about what you want to use your site for,
what colors you like and whether you want to use your own images
or stock images on your site. The more information you can give
them about how you want your site to look the better.

Subsuqent Meetings
Later meetings will usually take one of several forms.
A second meeting may involve looking at initial design mockups that the company has created.
They will want you to look at the designs so that you can tell them what you like and what you do not.
If you want to take some time to consider what you like and what you do not
it is possible for you to do so but you may find that this
slows down the production schedule.
Once a design that you like has been created developers will begin
to write the code that will turn the concept drawings into a functioning site.
You may find that several different programs will be used to create
the finished site especially if there are components such as shopping
carts and content management systems.
They will also work with you to ensure that good search engine optimization
techniques have been used so that your site will be easy to find once it is up and running.
A good website design company will test the site to make sure that there
are no programming errors and that the site is easy to use.
Finally, you will choose the domain name for your site and,
when all is said and done, it will go live. Then you can sit back
and wait for visitors to view your site and enjoy the increase in business that it can bring you.
Our Website development Services
We offer an extensive range of website development services which includes website design,
website redesign and website upgrades, See here for more information >>