SmartPhone usage is growing a phenomenal rate, in recent times smartphone sales overtook desktop PC's, in a recent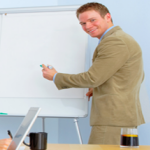 Neilson report it was claimed that 46% of US mobile phone owners have a Smartphone in quarter 4 2011. This has opened new opportunities in the area of area of education.This has given way to the virtual classroom. With mobile devices Teachers can connect with students, run virtual classroom polls in real-time as well as many of daily classroom tasks.
Here is list of websites that have software in this area that you might find of interest.
A hassle-free way for teachers to text their students. ClassParrot is the 100% safe, and simple tool that lets teachers reach students the way their friends do. You have a computer, and your students have phones. Use ClassParrot to connect them both – safely, securely, privately. So you can update your students with the reminders they need!
With ClassPager, students can bring their own device and start using it to participate instantly. It's a new generation of classroom clicker. Ask and answer questions, individually or with groups of students.It helps Engage any student on any device — during or after school. Broadcast updates and info at any time to parents and students.
Audioboo Pro is a new set of server side features designed to let 'boo professionals' manage their audio. If you're a teacher, you can add named "students" to a single account. That way the audioboo is pre personalised as "John Smith from account name".
Each week we deliver parents an easy to read email covering the math topic their child is currently learning. Each email is written by certified teachers and is aligned with the Common Core Standards. It's been a while since you were in school. Each email includes a quick refresher, designed for parents. The way math is taught has changed. We'll explain the latest techniques so that you and your child are on the same page.
It allows users from a mobile phone to send texts to a display or screen.  A new version with more features is going to be updated soon
Thanks the TIB Team