Automatic gates are becoming a popular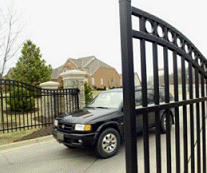 feature around the Irish countryside.
Here are some reasons why these systems
are becoming so popular with
Irish home owners.
1.  Increase the overall security of the home
Automatic gates increase the security of the
home in a number of ways , primarily by restricting access,
also by increasing the control as standard gates invariably
are left open at various times, this problem is removed
with the implementation of automatic gates.
Automatic gates can be controlled by a number of devices, including electronic cards,
vehicle Tags, digital keypads, as well as portable remote controls. The gates can also
be integrated with surveillance cameras to record all movement in and out as well
as Intercom systems to allow visitors request entry.
 2. Provide a more convenient access control system
Typically properties employ wooden or Iron gates that are opened and close manually.
Automatic or electric gates can be controlled remotely, this provides a major
convince to their owners especially during cold and rainy weather.
3. Increase the Safety of children and pets
Another important consideration is the safety of children and pets around the home.
An Automatic or electric gate system not only provides a safe boundary it also
guarantees that the gates will automatically close when people enter or leave the property.
Preventing pets from wondering out onto the roadway etc.
4. Add value to your property:
Just like and other enhancement to your property, automatic gates will not only afford
your property with a higher level of access control and security they will also invariably
increase the value of your property.
Our service
If you are considering installing automatic gates for around your home or business then we
offer you a number of options. If you would like a free consultation then please complete
our free enquiry form See here